BANGKOK, April 24, 2010 (AFP) - Thailand's anti-government "Red Shirts" said Saturday they were braced for a crackdown to end their protest movement, after the prime minister rejected an offer to compromise on demands for snap polls.
"Abhisit has ordered a crackdown on protesters within 48 hours, that is the information I have learned," said Reds leader Nattawut Saikuar.
Nattawut did not say where the information came from but other Reds leaders said earlier Saturday they had learned from sympathisers in the army that troops were being mobilised despite ongoing negotiations.
Nattawut said the Reds would strip off the symbols of their allegiance -- the red T-shirts and other garb they have sported for weeks -- to help them fight back against the government.
"Abhisit has shut the door on all Thai people by rejecting our compromise," he said. "He will do anything to keep his position as prime minister."
He said they would stick to a policy of non-violence, but other Reds figures speaking on a stage at their massive encampment in the heart of Bangkok's retail district promised a "guerrilla war" against the government.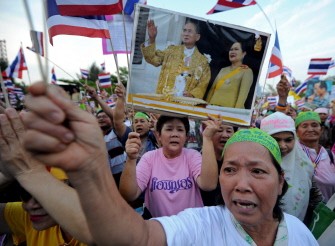 Thai Pro-government supporters wave national flags and hold portraits of the Thai King Bhumibol Adulyadej during a demonstration to counter anti-government "Red Shirt" protests in Bangkok on April 24, 2010. AFP photo
One leader also threatened to storm a giant shopping mall that lies within their rally base, which has paralysed the shopping hub for three weeks, saying that soldiers and police are hiding inside.
"We are ready to handle the government measures. No matter what shirt we wear, our hearts are red," said Jatuporn Prompan, warning that an offensive would trigger nationwide conflict.
"When the first blood is spilled here, the entire country will be the scene of bloodshed," he said.
Nattawut urged supporters, who are mostly drawn from the rural north but also include increasing numbers of the urban working class, to watch out for signs of the looming offensive.
This week one thousand Reds in the northern province of Khon Kaen blocked a military train loaded with armed soldiers and heavy equipment, and forced the army to give assurances it was not headed for Bangkok.
"I ask all of our Red Shirts people across the country to be alert to troop movement, and if we detect irregular movements we must stop them, like we did in Khon Kaen," he said.