Anti-government demonstrators officially handed over Thailand's main Suvarnabhumi international airport to authorities on Wednesday after an eight-day siege, a protest leader said.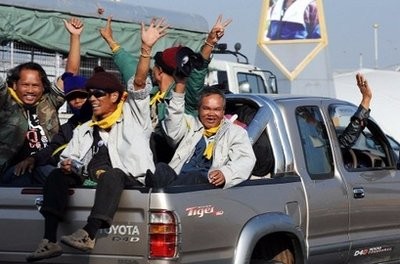 Anti-government protesters flash V-sign as they leave Suvarnabhumi international airport in Bangkok, on December 3. Jubilant protesters packed their belongings at Bangkok's main airport and queued to get the autographs of their leaders ahead of the expected lifting of a crippling blockade.(AFP/Hoang Dinh Nam)
News of the protester's retreat comes as a top airport authority official announced international flights from Bangkok's main airport are set to resume Thursday following the lifting of the airport blockade.
"We hope to resume flights on December 4, hopefully. From tomorrow night, the first departure flight will be Bangkok-Rome, a Thai Airways flight," said Vudhibhandhu Vichairatana, chairman of the board of Airports of Thailand.
Buses began arriving at the airport ahead of the 10:00 am (0300 GMT) time that the People's Alliance for Democracy (PAD) had set for ending its eight-day occupation of Suvarnabhumi international airport and ceasing all other protests.
It made the announcement on Tuesday after a court toppled the target of the royalist movement's protests, Prime Minister Somchai Wongsawat, and disbanded the ruling party following a six-month campaign by the PAD.
"I am looking forward to sleeping in my home, but everybody came here because they love the king," said Neepirom Kunniam, 58, wearing the movement's trademark yellow clothes, which symbolise devotion to the Thai monarchy.
The airport closures have left around 350,000 passengers stranded in Thailand, with foreign nations scrambling to send emergency flights to a military airbase southeast of Bangkok and to Thai provincial airports.
A line of hundreds of protesters snaked through the departures area of the three-billion-dollar air hub early Wednesday, as they got PAD founder Sondhi Limthongkul and senior leader Chamlong Srimruang to sign autographs.
Others listened to speeches and music from a huge stage set up in the airport's taxi drop-off area, while most were rolling up sleeping bags and collecting their possessions.
Former ruling party members have vowed to form another government under a new banner after the toppling of Somchai , who was barred from politics for five years by the Constitutional Court in a vote fraud case.
Protesters accused Somchai's administration of acting as a proxy for exiled former prime minister Thaksin Shinawatra, who was ousted in a military coup in 2006, and of being hostile to the monarchy.
The PAD are backed by the Bangkok business elite and middle classes, along with elements in the military and the palace.
"In next two weeks I think we will come again," said protester Pas Apinantpreeda.
"We have got a reason to leave, in the next two days we have the king's birthday and we don't want any problems for him. But I think the ruling party will collaborate to make a new government, we cannot accept that," he said.
The PAD's protests led to the coup which toppled Thaksin and they took to the streets again in May this year. Somchai's predecessor, Samak Sundaravej, was forced out in September for receiving payment for a TV cooking show.
King Bhumibol Adulyadej, who is revered as semi-divine by Thais, celebrates his birthday on Friday and is due to make a speech a day earlier.
Analysts said the developments would bring a brief respite until the remnants of the government tried to name a new premier in parliament, probably on December 8, but it would not solve the kingdom's underlying problems.
The PPP said it was ready to move lawmakers into a shell party called Pheu Thai (For Thais) and continue administering the country, spokesman Kudeb Saikrajang said, while the other coalition parties have vowed to back them.