BANGKOK, April 3, 2010 (AFP) - Tens of thousands of red-shirted Thai protesters overran the streets of Bangkok Saturday, swarming into the capital's tourist heartland in a renewed bid to overthrow the government.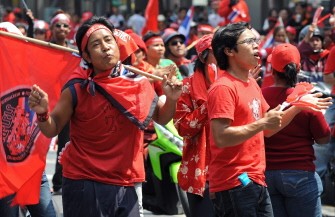 Red shirts supporters parade during anti-government protests in Bangkok on April 3, 2010. AFP photo
Bemused foreign visitors looked on as the supporters of fugitive former premier Thaksin Shinawatra occupied a key intersection close to a clutch of five-star hotels, shopping centres and the famous Erawan Shrine.
Despite sweltering temperatures, police estimated that by late morning about 60,000 people had joined the rally, the latest in a series of demonstrations since mid-March against Prime Minister Abhisit Vejjajiva.
The push into the capital's tourist centre came a day after representatives of the hotel and leisure industries mounted their own counter-rallies urging an end to turmoil they fear is scaring away visitors.
Saturday's protest snarled traffic and forced some shopping malls to close, but tourists caught up in the peaceful rallies seemed largely unfazed.
"I understand what they're doing. It doesn't scare me because I come here every year and know it won't be serious," said Adolf Gutounik, a 57-year-old visitor from Germany.
Thailand has been wracked in recent years by a string of protests by the Red Shirts and their rival Yellow Shirts, whose campaign in 2008 led to a crippling nine-day blockade of the country's airports.
"I don't think most tourists will like it when they come to Bangkok and face this," said Selina Poh, a 30-year-old from Singapore.
But she added: "I'm not scared of them. I have no idea what is red and what is yellow. I want to visit places in Bangkok."
The military has mounted a heavy security response involving 50,000 personnel for the protests.
Police were trying to negotiate with protesters to ease traffic gridlock.
"The longer they close the road the more it will dissatisfy people and businesses," said government spokesman Panitan Wattanaygorn.
The Reds oppose the coup that toppled Thaksin in 2006 and say Abhisit's government is undemocratic because it took office through a parliamentary vote after a court stripped Thaksin's allies of power.
Oxford-educated Abhisit has offered to hold elections a year early, at the end of 2010. But the Red Shirts, who accuse the government of being elitist and army-backed, want polls called immediately.
"Our patience is running out, but because of our patriotism we must adhere to non-violence," said Red Shirts leader Jatuporn Prompan.
The Reds said in the run-up to Saturday's demonstration that it would be the biggest since the rallies began with more than 100,000 protesters on March 14.
Authorities, however, expected fewer rural Reds to attend the gatherings as the Songkran water festival, which celebrates the traditional Thai new year, approaches on April 13-15.
But Nat Jantakat, a 38-year-old lychee farmer from the north, vowed to keep up the fight, making light of the 37 degrees Celsius (99 Fahrenheit) temperature.
"I've been here since the first day and I'll be here until we achieve democracy. I don't mind about Songkran. We have this festival every year... but democracy can't wait."
The Reds have staged a series of dramatic stunts to press their demands, including throwing their own blood at Abhisit's offices.
Hailing mainly from the rural poor north, they seek the return of twice-elected Thaksin, a former telecoms tycoon who lives abroad to avoid a jail term for graft at home.
The Reds rioted in Bangkok in April last year, leaving two dead and scores injured.
While their recent protests have been peaceful, a series of small explosions have hit politically significant sites and army buildings, injuring more than a dozen people.