BANGKOK, April 10, 2011 (AFP) - Crowds of anti-government "Red Shirts" began to gather in Bangkok on Sunday to mark a year since deadly clashes between troops and protesters during their mass rally in the capital.
Police have predicted up to 50,000 people could attend the gathering, which is set to be addressed via video link by fugitive former prime minister Thaksin Shinawatra, a hero for many of the red-shirted demonstrators.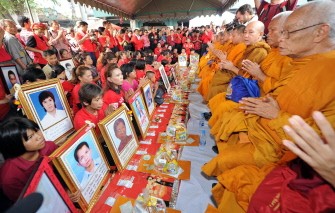 "Red Shirt" anti-government protesters hold portraits of victims as part of a ceremony to mark first anniversary of the violence between government forces and protesters in Bangkok on April 10, 2011. AFP
Thailand, which is preparing for elections set to be held later this year, remains deeply divided following the worst civil violence in decades in April and May 2010 that left more than 90 people dead, mostly civilians.
Fights between the military and protesters on April 10 last year left 26 people dead and marked a violent turning point in the rally.
The protest was halted the following month, when troops firing live rounds and backed by armoured vehicles moved in to disperse the demonstrators.
Dressed in their signature scarlet garb, the Reds began Sunday's year-on demonstration mid-afternoon with a religious ceremony, at which monks prayed for the dead and relatives held pictures of their loved ones who were killed.
"The purpose of the rally Sunday is to mark the first anniversary of the brutal crackdown on unarmed protesters and we want to honour our heroes," said Red Shirt spokesman Worawut Wichaidit.
"We hope that this rally will attract a large number of Red Shirts," he said.
Recent gatherings have attracted tens of thousands of protesters to the capital and marked a show of strength for the movement. But they have been well short of the 100,000 people who joined last year's protests at their peak.
Major General Wichai Sungprapai, of the Bangkok Metropolitan police, said around 3,300 officers would be deployed for Sunday's demonstration, which is due to go on late into the night.
Thaksin, who was ousted in a 2006 coup and now lives abroad to avoid a jail term for corruption, is set to address the crowd from overseas in the evening, according to Red Shirt Nattawut Saikua.
Thaksin, a former billionaire telecoms tycoon, is hailed by the Reds for his policies for the poor while in power, but seen by the Thai ruling elite as authoritarian, corrupt and a threat to the revered monarchy.
He faces terrorism charges in Thailand, accused of bankrolling last year's anti-government protests and of instigating unrest.
The Reds view Prime Minister Abhisit Vejjajiva's government as an unelected elite because it came to power in a 2008 parliamentary vote with military backing, after a court ruling threw out the previous administration.