BANGKOK, Nov 19, 2010 (AFP) - Thousands of Thai "Red Shirts" converged on central Bangkok on Friday to mark six months since a deadly crackdown on their anti-government rally.
Police at the scene said up to 10,000 people filled the upmarket shopping zone that the Reds occupied earlier this year with their campaign for snap elections.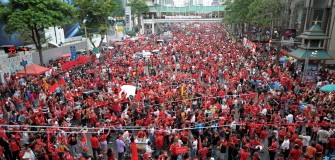 "Red Shirts" anti-government protesters gather on Ratchaprasong road during a demonstration in Bangkok on November 19, 2010. AFP
Red Shirts, many wearing their trademark colour and waving banners, lit candles to commemorate those killed in the unrest.
Shouts of "There were dead people here!" filled the air as Jatuporn Prompan, one of the few Red Shirt leaders not in prison, arrived to address the crowd.
"Today we came here to show the world that no matter how many of us you kill, you can't kill us all," he said.
Red Shirts, many of them supporters of fugitive former premier Thaksin Shinawatra who was ousted in a 2006 coup, took to the streets in mid-March for two months of mass rallies, with numbers peaking at 100,000.
More than 90 people -- mainly civilians -- died in clashes between demonstrators and soldiers, and nearly 1,900 were injured.
"We are here to find justice and truth but no one can give us that," one protester, who gave her name as Pongsri, told AFP.
Events to mark six months since the crackdown began on Friday morning with hundreds of members of the movement tying black ribbons on the gate of the capital's Remand Prison.
Though none has been convicted, 19 senior Reds are currently in jail on terrorism charges relating to the unrest during the demonstrations, while others thought to have played key roles remain on the run.
The rally appeared to be peaceful and Jatuporn encouraged the crowd to disperse in an orderly way in the early evening.
"We came here singing and dancing. I don't understand why they are afraid of us. We just want to be happy," Uthaiwan Sundkanop, a 56-year-old retired government worker told AFP in central Bangkok.
Ahead of the demonstration, an order from army chief General Prayut Chan-O-Cha warned people that sweeping emergency laws prohibited carrying items like clothes or photographs deemed able to "incite social rift".
"Anyone violating the law could be jailed for two years or fined 40,000 baht (1,300 dollars) or both," the order said.
Bangkok and three surrounding provinces remain under a state of emergency, invoked in April in response to the Reds' protest.
Prayut is reported to have overseen the deadly military assault on the Reds' fortified encampment on May 19.
Despite the emergency law invoked in response to the violence, which bans assemblies of more than five people, the Red Shirts have held several mass gatherings to remember the dead and continue to press their demands.
The mainly poor and working class protesters accuse the government, led by Prime Minister Abhisit Vejjajiva, of being elitist and undemocratic.
Since the May crackdown a number of small blasts have rattled the capital and an explosion killed four people at a Bangkok apartment block last month.
The government has pointed the finger at the Reds, but they deny any involvement and accuse authorities of seeking to justify tougher security powers.
Thai authorities have used the wide-ranging powers to arrest hundreds of suspects and silence anti-government media -- earning criticism from rights groups.
Colonel Sunsern Kaewkumnerd, spokesman for the body in charge of overseeing the emergency rule, said it was down to police on the ground to decide whether an item would "cause misunderstanding... or provoke further rift."
Among the crowds, Kornkamol Prommahi, 40, was selling flip flops with Abhisit's face on them to the protesters, undisturbed by police.
Kornkamol was arrested with another woman for selling the controversial footwear in Ayutthaya, north of Bangkok, in October but said she was released without charge when her friend took the blame.
"I am afraid of the police but I have my family to take care of," she said.