BANGKOK, April 2, 2010 (AFP) - Thailand's anti-government "Red Shirts", gearing up for another mass protest, accused Prime Minister Abhisit Vejjajiva Friday of instigating counter-rallies which they said could provoke violence.
Bangkok tourism workers as well as university academics and staff were preparing for their own rallies Friday to call for an end to the Reds' demonstrations agitating for snap elections.
A leader of the Red Shirts, who support the populist fugitive ex-premier Thaksin Shinawatra, said a fourth mass weekend rally on Saturday would go ahead as he accused authorities of mobilising people to stage counter-protests.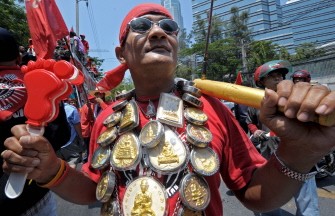 A Red-Shirt supporter attends a protest at the US embassy in Bangkok on April 2, 2010. AFP photo
"I ask the prime minister: Do you want people to confront each other so that you can continue in your position?" the Reds' Jatuporn Prompan told reporters. A university doctor from Bangkok's prestigious Chulalongkorn University met with Abhisit at Government House on Friday to state opposition to dissolving parliament, claiming he spoke on behalf of thousands of people in his network.
"The Red Shirt demonstrations have damaged Thailand's image and their demand for House dissolution is unreasonable," said the doctor, Tul Smithisomwong, who denied his group was organised by the government.
Tourism officials have said they will link up with the university's protest in Bangkok over deepening concern about the impact of political turmoil on the vital sector.
Abhisit has offered to hold elections a year early, at the end of 2010. But the Red Shirts, who accuse the government of being elitist and army-backed, want polls even sooner.
The Reds began their rallies on March 14 with more than 100,000 supporters, but the army has predicted many rural demonstrators are set to head home.
The group have staged a series of dramatic stunts to press their demands, including throwing their own blood at Abhisit's offices.
More than 1,000 Red Shirts visited the US embassy in Bangkok Friday to deliver a letter to Secretary of State Hillary Clinton promising that their rally would not turn violent.
Their letter came after the US State Department called for "peaceful resolution" of the class-based conflict.
The Reds seek the return of the twice-elected Thaksin, a former telecoms tycoon, saying that the coup that ousted him in 2006 was illegal.
Thaksin, who lives abroad to avoid a jail term for graft, has sought to mobilise his supporters with a series of impassioned speeches by videolink.