Thailand's "Red Shirts" have entrenched themselves in Bangkok's glittering commercial heart, establishing a staggeringly large and elaborate protest base for their anti-government fight.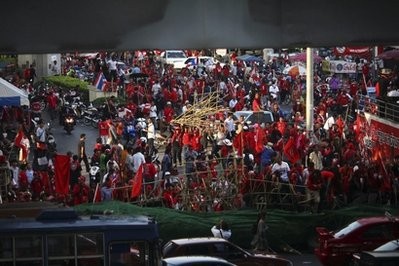 Anti-government protesters guard the entrance to their encampment, Tuesday, April 20, 2010, in Bangkok, Thailand. (AFP Photo)

In surreal scenes next to glass-fronted luxury malls and hotels, thousands of red-clad demonstrators have set up a tent city complete with food outlets, entertainment, free massages and a legion of black-shirted security guards.
"We have toilets, you can take a shower, everything is here," says 29-year-old Prayoon Ninpetch from Surin province, one of the many Reds who have travelled to Bangkok from Thailand's poor and underdeveloped north.
Their presence, which has forced many hotels and shops to close, stretches along four kilometres (2.5 miles) of what used to be some of the city's most important transport arteries.
Given the scope of the operation, observers question who is funding the protesters, many of whom have had to abandon their jobs and farms to join the campaign against Thailand's elites.
Tens of thousands arrived in Bangkok more than a month ago to join the rally for snap elections and many remain despite fears of an imminent army crackdown after clashes with security forces that left 25 dead on April 10.
"Reds tell me the money comes from their own donations but I doubt if they could sustain it for this long," says Pavin Chachavalpongpun, a visiting research fellow at the Institute of Southeast Asian Studies in Singapore.
"It's an expensive operation and don't forget they need to pay for the security guards and that's big money."
Reds' spokesman Sean Boonpracong said they gathered 400,000 baht (12,400 dollars) daily from public donations, mainly collected on the site, which is strung with technical equipment to project speeches from the main stage.
He said expenses had been reduced since they consolidated in the commercial district six days ago after previously occupying a second site in the historic quarter, but he would not specify the cost of their campaign.
"Democratic businessmen make up the rest," he said, adding that these donors preferred to remain anonymous. "When we have a shortfall they help us out."
Reds portray their struggle as a genuine fight for equality and dismiss critics' claims that they are hired protesters in the pay of their hero, fugitive former premier and billionaire media mogul Thaksin Shinawatra.
Asked if Thaksin, who was ousted in a 2006 coup, helped out with funding the operation, Sean said: "I'm sure he does but I don't know how much. No one has that information."
Pavin said it was "impossible" to know exactly where the money came from but he did not think Thaksin could be the sole source of the cash.
"I don't think it's even a large proportion of the funding especially after his assets were seized," he said, referring to a court order that confiscated 1.4 billion dollars of Thaksin's fortune for conflict of interest.
"There might be some who are rich businessmen who never had anything to do with the Bangkok elite, who are out of the network, who have worked so hard and feel they don't get anything in return," he said.
Even without army intervention, it is unclear how long the protesters can keep up this village-like occupation, complete with their streetside hairdressers, monks in mobile Buddhist temples and even the odd pet chicken.
Jeff Savage, an British expatriate supporter of the Reds, said he was originally paid expenses by the movement to transport food and drink daily from his home town of Pattaya, southeast of Bangkok.
"I'm paying my own petrol money now so something's gone wrong somewhere," said the 48-year-old, whose wife is from Thailand's northeast. But he doubted that Reds' passions were likely to dwindle, even if their funding did.
"All my wife wants is equal opportunity for her daughter, an equal playing field. She doesn't want war or anarchy but it's got a bit out of control since people got killed," he said. "Since the deaths, it's got personal".