BANGKOK, April 24, 2010 (AFP) - Thailand's political deadlock showed signs of easing Saturday as the government considered a compromise offer from red-shirted demonstrators to end weeks of protests and deadly clashes.
The "Red Shirts" campaigners, who had been seeking snap elections to replace a government they consider illegitimate, have softened their demands and said they would accept a dissolution of parliament in 30 days.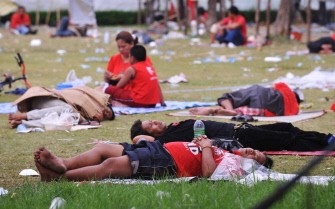 Anti-government "Red Shirt" protesters rest on the ground after an overnight rally at their camp in the central quarter of Silom in downtown Bangkok on April 24, 2010. AFP photo
The United Nations and foreign governments have urged both sides on Thailand's political divide to find a peaceful resolution, after two bouts of street violence this month left 26 dead and hundreds injured.
Red leaders admitted some in their ranks were angry over the concessions, and urged Prime Minister Abhisit Vejjajiva to come to the negotiating table despite the failure of two previous rounds of talks.
"Thai society cannot accept any more losses, our victory is to stop the violence," said leader Nattawut Saikuar.
"We have made up our mind to have a fresh start. It's up to you Abhisit to follow our move or to count more dead bodies."
The compromise offer came as fears grew of a crackdown to close the vast Reds encampment in the heart of Bangkok, and warnings from the military that protesters would face live weapons fire in any new clashes.
However, army chief General Anupong Paojinda toned down the rhetoric Friday, saying that the use of force was no solution to the crisis.
"The best thing is to create understanding among the people. The army's job now is to take care of the people, and not allow Thais to attack each other," he said.
Abhisit, who came to power in a 2008 parliamentary vote after a court removed allies of ex-premier Thaksin Shinawatra, was noncommittal on the Reds' offer.
"I am determined to solve the problem," he told reporters late Friday, but added that a political solution could not be reached amid threats and intimidation.
Analysts said there was intense pressure to find a negotiated resolution to the long-running standoff, which has damaged Thailand's economy and its reputation as the tourist-friendly "Land of Smiles".
"Both sides are going to have to move towards the middle," said James Klein from the Asia Foundation, saying that the Reds' position was undermined by the violence as well as waning crowds at their rallies.
"I think on the government's side there's the political will. On the Red Shirts side, they have been forced into this, they have no choice."
Despite Anupong's dovish stance, army spokesman Colonel Sunsern Kaewkumnerd kept up the pressure Saturday, saying an offensive could still be launched to target Reds hardliners who he referred to as "terrorists".
"At the appropriate time, it would not be a dispersal, it would be a crackdown on those terrorists. At the moment the conditions are not right but I'm convinced that at some point we can crush them all."
The Reds also underlined the fragile nature of the steps towards a solution, announcing they had information from sympathisers in the military that troops were being mobilised for a crackdown regardless.
"We must be alert -- today, tomorrow and the day after will be crucial for us," he said. "We are ready to fight to the death against the tyrant government," said leader Jatuporn Prompan.
"I have learned that the government is ready to solve the problem through negotiations, but it doesn't mean everything will be settled in talks."
Abhisit condemned fresh violence on Thursday that saw a series of grenade blasts tear through a pro-government rally, saying the attacks, which left one dead and scores injured, "aimed to kill ordinary people".
Tensions have been high since April 10 clashes, sparked by a failed attempt to dislodge protesters from their original rally base in Bangkok's historic district, which triggered clashes that killed 25 and injured 800.
The Reds, drawn from the ranks of the rural poor as well as the urban working class, mostly support Thaksin, who now lives overseas to avoid a jail sentence for corruption.
Many nations have issued urgent calls for restraint and warned their citizens to stay away from the protests or avoid Bangkok altogether.