Thaksin's relatives made 1.9 billion dollars when they sold their nearly 50 percent stake in Shin Corp to Singapore's state-linked investment firm Temasek. The tax-free deal ignited mass protests in Bangkok that threaten Thaksin's government.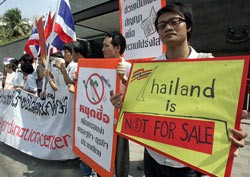 Thai students hold banners during da emonstration in front of the Singaporean embassy urged the country to stop the Temasek deal in Bangkok, 07 March 2006 (AFP Photo)
Senator Kraisak Choonhavan, chairman of the foreign affairs committee, told the city-state's Prime Minister Lee Hsien Loong in a letter that the protests in Bangkok could affect relations with Singapore.
The senator also sent the letter to Abdullah Tarmugi, the speaker of Singapore's parliament.
"The relationship between our two countries must not be jeopardised as a result of a single business transaction, especially since Singapore is respected...for her belief in the values of transparency, accountability and good governance," the letter said.
The sale is set to be finalized Thursday, with the end of Temasek's tender offer for the remaining shares in Shin Corp.
The senator raised a litany of concerns about the deal, including alleged tax evasion, insider trading and asset concealment.
He also said that Thai laws prevented foreign ownership of three Shin Corp companies now under Temasek's control.
Protesters seeking to oust Thaksin threatened Wednesday to boycott nearly 100 products and companies with ties to the premier or to Temasek, including several top international brands and companies from Singapore and Thailand.
A day earlier, protesters outside the Singaporean embassy urged the country to stop the Temasek deal and threatened to march on the embassy Thursday -- a move which spooked investors and sent the stock market tumbling.
Source: AFP