Bangkok seems to have effortlessly shifted gear from the political protests that forced out Prime Minister Thaksin Shinawatra into celebratory mood, with tens of thousands of people armed with water pistols taking to the streets for this year's festival.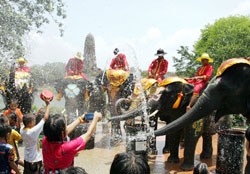 Elephants and their handlers enjoy spraying water on bystanders during the Songkran festival in Ayuttaya province, 12 April 2006 (AFP Photo)
Songkran, which commemorates the Buddhist New Year, is traditionally a time of renewal and involves pouring water over shrines and other people as a sign of cleansing.
But recently the festival has become a free-for-all water fight, when total strangers douse each other with water and spread white paste on their faces. For three days in Bangkok, people take to the streets armed with water pistols.
Restaurant owner Somsak Butrdee, 39, said Songkran was a welcome respite from the political tension that had embroiled the country for months.
"The mood is not different from Songkran last year," he said while watching water fights on the Khao San Road, a strip popular with backpackers that runs near Sanam Luang, the royal park that was the site of most of the protests.
Bangkok's main festivities for Songkran, which runs until Saturday, take place at Khao San Road and Sanam Luang.
On Khao San Road, with music pumping, kids dancing and vendors throwing cold water at passersby, politics seemed to be far from people's minds.
"It's like a war out there," said Charlie Parr, 50, a drenched American who hadn't been dry all day. "Everyone is in attack mode."
The Khao San Business Association, which organizes the events with the Tourism Authority of Thailand, expected a turnout of 500,000 during the three days.
In addition to the water fights, a beauty pageant, parades and contests are also on the schedule.
At Sanam Luang, the site of the largest political protests, the mood was festive but more ceremonial.
Families and tourists flocked to the royal grounds as traditional music floated in the air and vendors touted their wares. The glowing Grand Palace was the backdrop for the celebration, which included carnival games, kite-flying and concerts.
In the city's Buddhist temples, Songkran is still a solemn event, with people lining up to pour water over statues of Buddha.
This year, temples also set out books where people wrote messages of congratulation to King Bhumibol Adulyadej, who celebrates his 60th year on the throne in June.
"It looks like good fun," said Andy Muller, 43, a tourist from Dusseldorf, Germany, who had seen protest coverage on TV. "Everyone has their political problems, so it's no big deal."
Songkran is one of the biggest and most anticipated celebrations in Thailand -- not the least because it brings a four-day weekend.
"Thais have lots of festivals but they don't have a lot of work holidays," said Philip Cornwel-Smith, an expert on Thai pop culture. "It's the most time Thais can get away from work, so they want to make the most of it."
Source: AFP