BANGKOK, April 25, 2009 (AFP) - The founder of Thailand's "Yellow Shirt" political protest movement left hospital under tight security on Saturday, just over a week after he was shot and wounded in an assassination attempt.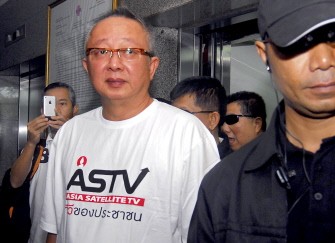 Sondhi Limthongkul (L) walks with his security guards as he leaves hospital in Bangkok on April 25 (AFP photo)
Media mogul Sondhi Limthongkul, who led a crippling blockade of Bangkok's airports last year, was discharged from Bangkok's Chulalongkorn hospital and headed to his house in the city's old quarter.
Gunmen in pick-up trucks sprayed automatic gunfire at Sondhi's car in the capital on April 17, wounding him, his driver and an aide. Sondhi underwent surgery to remove a bullet fragment from his skull.
"He left in his own car at 9:00am (0200 GMT) with many policemen escorting him," a hospital worker said.
Television footage showed Sondhi, wearing a white T-shirt, leaving hospital surrounded by security personnel before being driven off at high speed to his house.
He is scheduled to speak to the media next week about the brazen attack, which came during a state of emergency imposed after anti-government protests by rival "Red Shirts" in the capital.
His People's Alliance for Democracy (PAD) movement has blamed "men in uniform" for the attack, and the country's army chief has admitted that three of the bullets used came from the military.
Sondhi founded the PAD in 2006 to oppose then-prime minister Thaksin Shinawatra, holding huge rallies that opened the way for the military to topple Thaksin in a coup.
The movement wears yellow as a sign of loyalty to the country's revered king.
The PAD returned to the streets in 2008 after Thaksin's allies won elections, eventually occupying Bangkok's two main airports and stranding hundreds of thousands of travellers.