SAMRONG, Cambodia, April 28, 2011 (AFP) - Heavy weapons fire pounded the Thai-Cambodian border for a seventh day on Thursday as officials confirmed a 15th death in the bloodiest fighting between the neighbours in decades.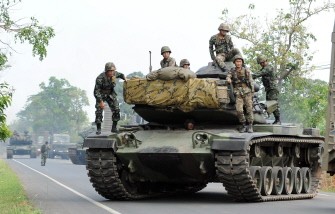 AFP - Thai military tanks prepare to patrol in Kap Choeng district in Surin province near Thai-Cambodian border on April 28, 2011.
Hopes appear to have faded for an imminent end to the violence around two disputed jungle temples, which has forced tens of thousands of civilians on both sides to flee their homes.
"One Thai soldier died during a clash this morning and four were wounded," Major Sukit Subanjui, deputy spokesman for northeastern region Thai army, told AFP.
Cambodian field commander Suos Sothea said the latest skirmishes had started in the early morning.
"The fighting is very heavy," he told AFP, confirming that it involved rockets and artillery fire.
The Cambodian Ministry of Defence said in a statement Thursday that the violence had spread to at least two nearby villages.
Both sides continue to blame each other for sparking the attacks and talks aimed at ending hostilities, which had been due to take place in Phnom Penh on Wednesday, were called off by Thailand's defence minister at the last minute.
Thai Foreign Minister Kasit Piromya left for Jakarta, chair of the Association of Southeast Asian Nations (ASEAN) regional bloc, on Thursday and is due to discuss the clashes with his Indonesian counterpart Marty Natalegawa.
The US ambassador to Thailand, Kristie Kenney, urged the neighbours to return to the negotiating table and said she hoped ASEAN would help the talks.
Eight Cambodian and six Thai troops have died since fighting began on Friday along their shared border, prompting growing diplomatic pressure on the neighbours to end the conflict.
Bangkok has said a Thai civilian has also been killed.
"In the end this issue must be resolved by negotiation and there are still avenues for talks. War only cause losses, injures and deaths," Thai Deputy Prime Minister Suthep Thaugsuban told reporters on Thursday.
The Thai-Cambodian border has never been fully demarcated, partly because it is littered with landmines left over from years of war in Cambodia.
On Tuesday the fighting briefly spread to the 900-year-old Preah Vihear temple, which has been the focus of strained relations between the neighbours since it was granted UN World Heritage status in 2008.
In February, 10 people were killed near the Preah Vihear temple, which is 150 kilometres (90 miles) east of the two other ancient temple complexes at the centre of the current clashes, prompting a UN appeal for a permanent ceasefire.
The neighbours agreed in late February to allow observers from Indonesia into the area near Preah Vihear. But the Thai military has since said the monitors are not welcome and they have not been deployed.
The World Court ruled in 1962 that the temple belonged to Cambodia, but both countries claim ownership of a 4.6-square-kilometre (1.8-square-mile) surrounding area.
Cambodia has accused Thailand of using spy planes and poisonous gas in the recent fighting -- an allegation denied by Bangkok.
The fighting comes at a sensitive political time for Thailand, with Abhisit preparing to dissolve the lower house of parliament for elections he has said will be held by early July.
Abhisit said on Tuesday that the clashes would not derail his polls plan.