BANGKOK, April 7, 2011 (AFP) - Thailand on Thursday admitted using controversial weapons during a border clash with neighbouring Cambodia in February but insisted it did not classify them as cluster munitions.
Responding to accusations from campaigners, the Thai army said it had used Dual Purpose Improved Conventional Munitions (DPICM) during the recent heavy fighting on the shared border.
Thailand's foreign ministry also confirmed that the country had used the weapons but said they were "deployed on the basis of necessity, proportionality and strict code of conduct".
DPICMs burst into bomblets which are designed for both anti-armour and anti-personnel attack, according to GlobalSecurity.org, a US-based public policy organisation focusing on defence intelligence.
They are defined as cluster munitions by the global campaign group Cluster Munition Coalition (CMC), which on Wednesday slammed Thailand's use of the arms.
The group, which campaigns against the bombs, said the Thai-Cambodian conflict was the first confirmed use of cluster munitions anywhere in the world since the Convention on Cluster Munitions became international law.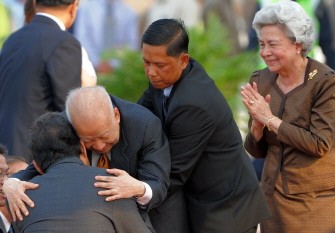 Cambodia's former king Norodom Sihanouk (CL) hugs a government official as former queen Norodom Monineath Sihanouk (R) greets people upon their arrival at Phnom Penh international airport on April 6, 2011. Cambodia's ailing former king Norodom Sihanouk returned home on April 6 from Beijing where he spent nine months receiving medical treatment, officials said. AFP
The convention came into effect in August last year, requiring signatories to stop the use of the weapons, but neither Thailand nor Cambodia have signed the treaty.
CMC said the munitions have "caused large numbers of civilian casualties" when used by the United States in Afghanistan in 2001-2 and Iraq in 2003, as well as by Israel in Lebanon in 2006. Neither Israel or the US are listed as signatories of the convention.
The group detailed its own investigation of Cambodian government claims that the deadly munitions had landed on its territory in four days of unrest between the neighbours in early February.
The Thai ambassador to the United Nations in Geneva had confirmed the use of DPICMs "in self-defence" in a meeting with CMC on Tuesday, CMC said in a statement.
"It's appalling that any country would resort to using cluster munitions after the international community banned them," added CMC director Laura Cheeseman.
CMC said a cluster bomb had killed two Cambodian policemen during the February clashes and warned that thousands of people remained at risk from unexploded bomblets in several villages along the northern border.
Launched from the ground or dropped from the air, cluster bombs split open before impact to scatter multiple bomblets over a wide area. Many fail to explode and can lie hidden for decades.