The National Legislative Assembly of Thailand has passed the tobacco control law, aiming for better control of tobacco products and protecting people's health, source from Vnplus.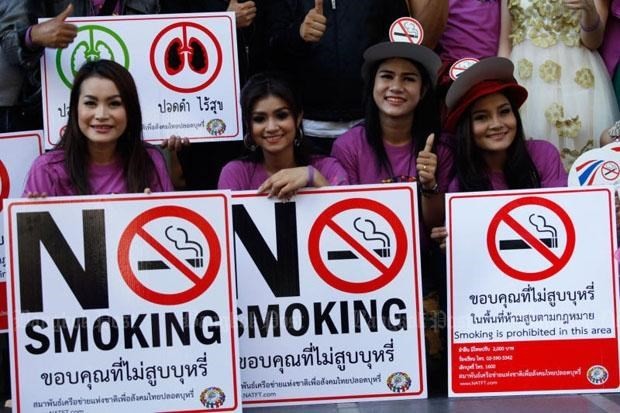 Thailand's anti-tobacco activists pose with their posters during a past campaign. (Photo: www.bangkokpost.com)
Under the new law, the minimum age to legally buy cigarette in Thailand will be raised from 18 to 20 years old and the sale of individual cigarette will be prohibited. Violators will face three months or less in jail or a fine of 30,000 THB (about 850 USD).
The law also bans the production and import of cigarettes with a pack containing fewer than 20 cigarettes and stipulates a fine of 300,000 THB (around 8,550 USD) for violators.
In addition, a national council on tobacco control will be established, which will work to protect health of non-smoking people and improve smokers' health.
With the new law, the number of smokers in Thailand is hoped to reduce by 200,000 people per year. Currently, the country has about one million smokers.