Thailand will raise a deadly border clash with neighbouring Cambodia when the leaders of the two countries meet at a regional summit this week, the Thai prime minister said Sunday.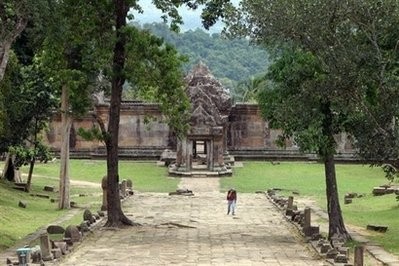 Preah Vehear Temple
Two Thai soldiers were killed on Friday when troops from both countries fought heavy gunbattles in the worst clashes for six months over a disputed 11th century temple on their shared border.
The clash erupted days before a summit of the Association of Southeast Asian Nations (ASEAN) and its regional partners in the Thai beach resort of Pattaya from April 10-12.
"This will be raised in next week's meeting to find a solution to the problem," Thai premier Abhisit Vejjajiva said in his weekly television broadcast.
"It is sad for those who lost their lives. We will speed up the return of the situation to normal and resume the talking process as soon as possible," Abhisit added.
The two countries are also set to hold talks about the situation on the border on Monday and Tuesday in Phnom Penh, which had been arranged before last week's clashes.
On Saturday both Abhisit and his Cambodian counterpart Hun Sen sought to play down the latest crisis, although troops from both sides remain on standby at the border.
The area was the scene of several clashes last year after Cambodia successfully applied for United Nations world heritage status for the ruins in July, with four soldiers killed in a battle there in October.
In 1962 the World Court awarded the ruins to Cambodia, but the most accessible entrance is in Thailand and the two countries still dispute ownership of the surrounding land.