BANGKOK, April 18, 2011 (AFP) - Thai Prime Minister Abhisit Vejjajiva said Monday that he expects elections to be held in the politically-divided country by early July.
Abhisit, the British-born, Oxford-educated head of the establishment Democrat Party, has previously said he would dissolve the lower house of parliament by early May for what is expected to be a hard-fought vote.
The move would pave the way for a vote in late June or early July as by law polls must be held between 45 and 60 days after house dissolution.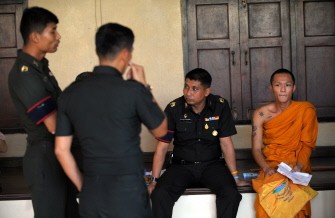 AFP - In this picture taken on April 7, 2011, a Thai Buddhist monk (R) sits with soldiers after he was selected as a military recruit - through a lottery system - during a process held at a temple grounds in Bangkok.
"It is clear that an election is likely to be held between the end of June and early July," Abhisit said on Monday during a speech to youths who have volunteered to work during the polls.
He said that after years of economic and political turbulence in the kingdom, an election would be an opportunity for the country to move forward.
Thai society remains bitterly divided following the country's worst civil violence in decades in April and May of last year, when there was a series of street clashes between anti-government protesters and armed troops in Bangkok.
The mass protests by the "Red Shirt" opposition movement -- which was seeking immediate elections -- left more than 90 people dead, mostly civilians.
The Red Shirts view Abhisit's government as undemocratic because it came to power in a 2008 parliamentary vote with the backing of the military after a court ruling threw out the previous administration.
The red-clad movement, which is broadly loyal to fugitive former premier Thaksin Shinawatra, has held a series of peaceful one-day rallies in the capital in recent weeks.