BANGKOK, April 3, 2011 (AFP) - The death toll from heavy flooding in southern Thailand has risen to 40, the government said Sunday, with thousands of people forced to live in temporary shelters.
More than a week of heavy rain -- in what is usually one of the hottest months -- has caused floods in 10 of Thailand's 77 provinces, submerging homes, triggering landslides and washing away roads and bridges.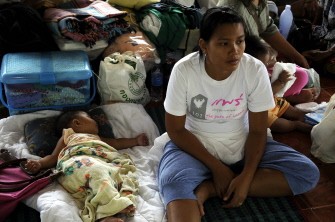 AFP - A Thai woman and her child rest at a temple after they were evacuated from their landslide-struck village following torrential rains, in Thailand's southern province of Krabi on April 2, 2011.
As of Sunday, the death toll stood at 17 in hard-hit Nakhon Si Thammarat province, 10 in Surat Thani, seven in Krabi, and two in each of Phatthalung, Chumphon and Trang, the department of disaster prevention and mitigation said.
A mudslide swamped at least one whole village in Khao Phanom district, Krabi province.
Bad weather last week stranded thousands on islands in the Gulf of Thailand and Andaman Sea, prompting the government to send in the navy to rescue people from Koh Tao and Koh Phangan, where food and water was running low.
Ferry and air links have since resumed to most holiday areas.
Prime Minister Abhisit Vejjajiva on Sunday called for people to be on alert for any new flood or mudslide warnings, saying that while the rains have eased, waterlogged soil remained a concern.
"People should cooperate with the authorities when there are warnings. Do not think it will never happen," he said in his weekly television programme, speaking live from flood-stricken Surat Thani province.
He said the government would discuss assistance for people affected by the floods at a cabinet meeting on Monday.
The new disaster comes just months after devastating flooding across Thailand late last year which left more than 200 people dead.