BANGKOK, March 22, 2010 (AFP) - Thailand's government Monday extended a tough security law and furnished weapons to personnel guarding key sites, raising the stakes in a standoff with thousands of red-clad protesters.
The "Red Shirts" loyal to deposed former premier Thaksin Shinawatra, buoyed after staging a carnival-like parade through Bangkok on Saturday, have rejected offers of talks with the government and called for immediate elections.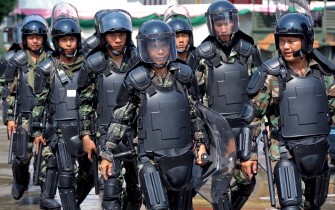 Thai soldiers stand guard as red-shirted supporters of deposed Thai premier Thaksin Shinawatra rally during an anti-government protest in Bangkok on March 22, 2010. AFP photo
On Sunday they won more headlines by painting poems, pictures and political slogans on white canvas with remnants of the blood they had donated and had earlier splattered on the prime minister's house and offices.
An army spokesman said the government was "very concerned" after several minor grenade attacks including two blasts that hit after the Saturday parade, which drew 65,000 people and revived a movement that had begun to wane.
"Starting from today, the military deployed at checkpoints, government buildings and military bases will be armed in order to prevent ill-intentioned people from inciting unrest," Colonel Sunsern Kaewkumnerd told reporters.
Sunsern said that only army officers at the sensitive locations would be supplied with firearms. Previously the 30,000 military personnel deployed for the protests did not carry weapons.
The army spokesman also threatened "decisive action" against demonstrators if they tried to disrupt a cabinet meeting scheduled for Tuesday at a ministry on the outskirts of Bangkok.
Deputy prime minister Suthep Thaugsuban said the government would extend a stringent security law enacted ahead of the mass protests for an additional week in Bangkok and two other provinces.
The Internal Security Act, which allows authorities to set up checkpoints, impose curfews and limit movement, had been enforced across eight provinces since March 11 and was due to expire on March 23.
Red Shirts leader Nattawut Saikur was taken aback by the escalation of security measures against a protest movement that, despite fears of violence, has passed off largely without incident in recent months.
"The government always says they'll not hurt the people, they'll not attack people. Why do they have to be armed when we demonstrate peacefully?" he told AFP, after vowing late Sunday that the protesters had more plans afoot.
Michael Montesano from the Institute of Southeast Asian Studies said the measures smacked of the "alarmism" that characterised government warnings in the run-up to the protests.
"In addition to being relatively heavy-handed, one wonders if these measures are intent on demonising the Red Shirt movement by associating them with the threat of violence," he said.
The Reds, mainly from Thailand's impoverished rural regions, claim that current premier Abhisit Vejjajiva's government is illegitimate and backed only by the nation's elite.
Thaksin, who was deposed in a coup in 2006, still enjoys strong support for the populist policies he introduced when in power.
The demonstrators have rejected Abhisit's offer of dialogue with one of his ministers, saying they will only meet with the premier himself and only to discuss the dissolution of the lower house of parliament.
Lertrat Rattanavanich, a senator organising any possible negotiations, warned the deadlock would only inflict further harm on Thailand as tourists stay away and businesses grow jittery.
"The talks aim to narrow the distance between the government and protesters before reaching the step of talks with the prime minister. It's a pity that the discussions can't be held today because everyone wanted it to happen," he said.
Police said there were 10,000 demonstrators camped out Monday morning at their base in Bangkok's old quarter, down from 45,000 late Sunday, but with numbers certain to swell again in the cool of the evening.