The Tourism Authority of Thailand (TAT) has revised down its target for tourism related income next year, citing concerns about global, regional and national economic problems and the political situation.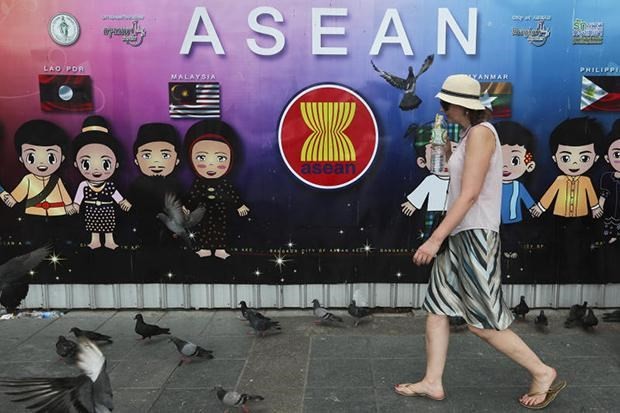 A foreign tourist walks past a banner promoting the Asean Economic Community on Ratchadamnoen Road (Source: bangkokpost)
The tourism agency is cutting its income projection for local tourism from 1 trillion baht (28.5 billion USD) to 950 billion baht (27.1 billion USD), and revenue from the sector from 2.89 trillion baht (82.5 billion USD) to 2.84 trillion baht (81.1 billion USD).
It will put more focus on quality-tourism promotion campaigns in 2017.
It expects 10.8 million Chinese tourists to visit the country next year, up 3.8 percent from this year, which should lead to a 574 billion baht (16.4 billion USD) income, up 9.1 percent from this year.
The agency will also focus more on the ASEAN market. It expects to welcome 9.3-10 million ASEAN tourists in 2017, generating some 292 billion baht (8.3 billion USD), a rise of 11.3 percent.
Australia will pose the greatest challenge for the TAT next year because the value of the Australian dollar has fallen by 30 percent and the number of low-cost flights between Australia and Indonesia's Bali has surged.
The number of Australian visitors to Thailand is forecast to drop in the second half of this year.