BANGKOK, April 5, 2010 (AFP) - Thailand turned up the legal heat on defiant red-shirted protesters loyal to fugitive ex-premier Thaksin Shinawatra Monday, seeking a court order to move a crippling rally out of Bangkok's tourist hub.
Tens of thousands of Thaksin supporters paralysed the capital's commercial and luxury hotel district for a third day, keeping several major shopping malls shut and halting traffic on a key road.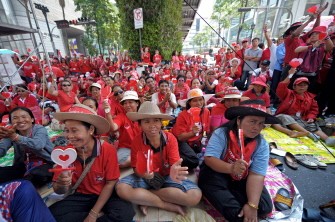 "Red Shirt" supporters chant slogans as they gather during continued anti-government protests in the tourist hub in Bangkok on April 5, 2010. AFP photo
The "Red Shirts" also massed outside the election commission's offices and briefly stormed inside as their rolling rallies entered a fourth week.
But they later dispersed there after receiving assurances that the commission was investigating allegations of improper political funding involving Prime Minister Abhisit Vejjajiva's party.
The government meanwhile was seeking a legal order to force the protesters to leave the tourist area, as well as arrest warrants for those refusing to move, government spokesman Panitan Wattanayagorn said.
"Since they have violated the order to leave the areas... all the demonstrators will be charged accordingly," he told AFP.
The Reds are demanding immediate elections, accusing Abhisit's government of being undemocratic because it took office in 2008 through a parliamentary vote after a court stripped Thaksin's allies of power.
The Reds' gathering in the tourist hub has been banned under a strict security law that could land the protesters with a year in jail.
Senior Reds, however, said they would not be cowed by the threat of arrest, adding they would pass the torch to new leaders if detained.
"Regardless of who brings an arrest warrant to me today I will not accept it," said Jatupron Prompan, a key Reds figure. "There is no law in the world banning its national from using roads."
Tensions grew with an early-hours explosion outside a Bangkok massage parlour owned by the family of the commerce minister, and a grenade fired into a supermarket parking lot in northern Chiang Mai city. Nobody was injured.
Elsewhere an unexploded hand grenade was found outside the government-run National Broadcasting Service of Thailand, in the latest unexplained attacks since the rolling demonstrations began in mid-March by Thaksin's supporters.
The military has mounted a heavy security response involving 50,000 personnel at its height to try to contain the protests.
The government wants to avoid a repeat of last April's clashes with Red Shirts that left two people dead, six months after riot police took on the rival Yellow Shirts in bloody scenes outside parliament.
On Sunday, deputy prime minister Suthep Thaugsuban, who is in charge of security, said the government wanted to end the standoff peacefully.
"We will avoid force which risks clashes. But we may have to send authorities to the site," he said.
Tourists in the upscale shopping area have appeared largely unfazed by the noisy protests, with some enjoying the rally's carnival-like atmosphere with dancing and live music in the streets.
Police said up to about 58,000 Reds, mostly from the country's rural north, rallied on Sunday in their trademark colour, surrounding a stage where leaders issued diatribes and sang protest songs.
Business chiefs have warned the action could inflict heavy losses on the tourism and other industries.
But the stock exchange said it would operate as usual Monday, urging investors to "consider the credibility of news sources" on the protests.
Thai society is split between the Reds, who accuse Abhisit's government of being elitist and army-backed, and the Yellow Shirts, supporters of the country's establishment who accuse Thaksin of gross corruption.
Thaksin, a billionaire former telecoms tycoon, lives abroad to avoid a jail term for graft at home.