Some 45 million people are eligible to cast their votes in the poll, which Thaksin called three years early in a bid to end weeks of mass street rallies set off by allegations that he abused his office for personal gain.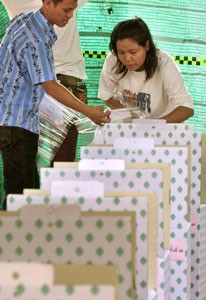 Election commission officials prepare the election materials in Bangkok 01 April 2006 (Photo: AFP)
Polling stations are due to open at 8:00 am (0100 GMT) and counting will start after the polls close seven hours later. Provisional results are expected to trickle in throughout Sunday night.
But protesters have vowed to continue demonstrating for Thaksin to quit long after the ballots have been counted, angry over a controversial share deal that saw his family make 1.9 billion dollars tax free.
In the absence of any opposition candidates, the biggest challenge to Thaksin in Sunday's vote is the "no vote" option that could be exercised in Bangkok and the troubled south, where anger towards the premier is most fierce.
Thaksin has pledged not to take office if he wins less than 50 percent of the vote, and his critics have called for voters to tick the abstention box in a show of no confidence, saying this could deny Thaksin his majority win.
But Sirirat Choonhaklai, an associate professor in public administration at Bangkok's Mahidol University, downplayed the impact of the "no vote" option, saying Thaksin's support remained strong in the country's north and centre.
Another analyst said few people were likely to exercise the "no vote" and that Thaksin's opponents would most likely just stay away from the polls.
"It takes a lot to go out and vote for no one," said Thitinan Pongsudhirak, professor of political science at Chulalongkorn University in Bangkok.
According to Sirirat, a landslide victory would be the best way to end the political crisis, saying a marginal victory would further fuel anti-Thaksin protests.
"If (Thaksin) gets a landslide victory, people won't be able to say he can't rule the country," Sirirat told AFP. "If he doesn't get... a comfortable victory, those people will have an excuse to come out and protest again."
The People's Alliance for Democracy, which has been holding rallies in Bangkok since late February to demand Thaksin quit, suspended its protests Thursday but vowed to resume them April 7.
While the result may seem a foregone conclusion -- Thaksin's Thai Rak Thai (Thais Love Thais) party is expected to run unopposed in about 197 of 400 constituencies -- the election is unlikely to resolve the political standoff.
Election officials warn that even an apparent victory might not be enough to form a parliament. Dozens of the party's candidates could fail to win the 20 percent of votes required to take office.
About a third of some 941 candidates have already been disqualified, meaning there might not be enough lawmakers elected to confirm a new prime minister, forcing by-elections and leaving the country facing months of political limbo.
The election commission is expected to finalise a candidate list Saturday pending a Supreme Court ruling on the validity of 400 candidates.
Polls this week in Bangkok showed support for Thaksin's party slipping ahead of the poll.
Source: AFP