Thai police on August 24 reported that one person died and 30 others were injured in two explosions near Southern hotel in Pattani town in the southern region on the night of August 23, Vietnam News' journalist in Bangkok said.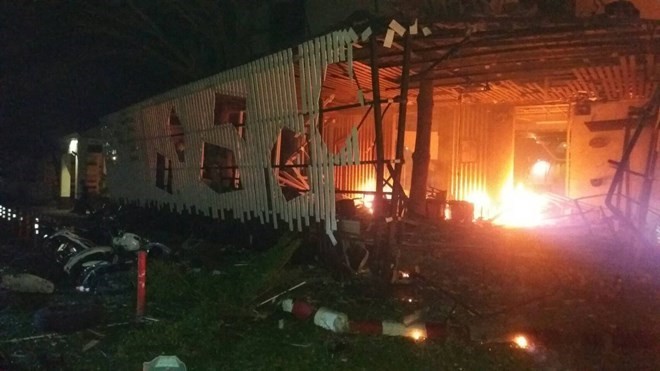 The explosion in Pattani town, Thailand (Source: twitter.com/CapaMagENG)
The first explosion occurred on the back of Southern hotel with no casualties reported while the second blast broke out in a van parked in the entrance to the hotel, which faces a karaoke bar and a massage parlor, killing one person and injuring 30 others, the police said.
The blasts happened less than two weeks after a series of bombings rocked the country's three most famous resorts and a town in the southern region that claimed the lives of four people and left dozens of others wounded. Thai police said at least 20 people were involved these deadly bombings and many of those involved came from Thailand's Muslim-majority southern provinces.
The country's media on August 23 cited sources from Malaysia as saying that the negotiation between the Thai Government and southern militants will be resumed in Kuala Lumpur, Malaysia, in September after the two sides agreed on the content to be discussed during the talks.
The bombings in the seven southern provinces left no significant impacts on the country's economic growth as viewed by Secretary General of the National Economic and Social Development Board Paramethi Wimonsiri on August 23.
The country achieved a growth of 3.5 percent in the second quarter, driving the rate of the first half to 3.4 percent. The whole year's GDP would reach 3.3 percent or between 3-3.5 percent, he said.
The official assured that the domestic security force is capable of managing the situation.