Thai governmental agencies and investment organisations are working with public and private partners to turn Thailand into Asia's next major aviation center, source from Vietnamplus.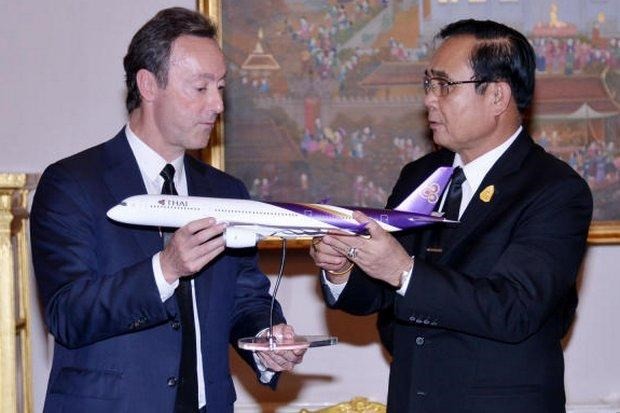 Prime Minister Prayut Chan-o-cha and Airbus Commercial Aircraft president and chief operating officer Fabrice Bregier at the MoU signing ceremony (Photo: Bangkok Post)
Public and private aviation figures show Thailand as a potential aviation hub rival to Singapore with passenger traffic in Asia–Pacific forecasted to triple in the next two decades.
Recently, the Thai Ministry of Transport published a development plan for 2017–2031, focusing on the construction of a Maintenance, Repair, and Overhaul (MRO) centre for Thai Airways and developing design and manufacturing capacitiy in the country's aviation industry.
It is part of a large-scale government plan to increase public and private industrial capabilities around manufacturing embedded electronics, smart cars, robotics and other technologies.
According to the Board of Investment of Thailand, new investment in the aviation sector rapidly increased during January–October last year, showing the country is getting closer to its target of becoming a major aviation hub in Asia. A total of 22 projects of foreign aviation companies with investment of 22.9 billion THB (649 million USD) were registered during the period.
Aviation is one of ten sectors targeted by the Thai government for economic growth.
Thai Airways Internationals and Airbus Industries Group on March 8 signed a memorandum of understanding to evaluate the development of the MRO facility at U-Tapao International Airport in southern Thailand.
Earlier, President of the Airports of Thailand Public Company Limited (AOT) Nitinai Sirismatthakarn said the company has formulated a 10–year plan for the improvement and development of six major airports with estimated budget of 200 billionTHB (5.6 billion USD)
AOT currently has six international airports: Don Meuang, Phuket, Chiang Mai, Hat Yai, Chiang Rai and Suvarnabhumi.-