BANGKOK, March 12, 2009 (AFP) - Thai Prime Minister Abhisit Vejjajiva said Thursday he would send a further 4,000 troops to the kingdom's troubled south where a bloody five-year insurgency continues to claim lives almost daily.
Abhisit told reporters the extra rangers would help improve relations between authorities and the Muslim-majority population, despite vowing in January to end emergency rule following allegations of military abuses.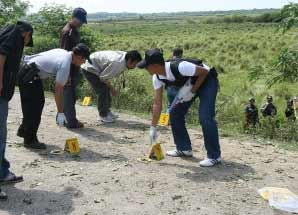 Thai police bomb squad member examine the site of a bomb blast set off by suspected separatist Muslim militants, in Takbai district in Thailand's restive southern Narathiwat province on Mar. 12 (Photo: AFP)
"I have authorised an additional 4,000 rangers. Their mission is non-combat. They will work towards a better understanding with residents," Abhisit said after meeting with top military officials.
"The government can currently only maintain the status quo and... it's not enough because there are still violent militants who have succeeded in creating a climate of fear in the area," he said.
More than 3,600 people have been killed since unrest erupted in the deep south in January 2004, with separatist militants employing increasingly brutal tactics including frequent roadside bombings, shootings and beheadings.
Tensions have simmered since predominantly Buddhist Thailand annexed the mainly Malay sultanate in 1902.
The increased troop levels follow the approval by the cabinet on Tuesday of a 1.2 billion baht (33 million dollar) budget to fund an increase in the hardship allowance of soldiers, police and civilians battling the insurgency.
The allowance is to be raised from 1,500 to 2,500 baht monthly for the 60,000 personnel deployed in the three troubled southern provinces of Pattani, Yala and Narathiwat.
Abhisit said the government would reassess troop levels again in April when the cabinet decides on a further three-month extension of emergency rule -- which would be the 15th since it was first imposed in mid-2005.
The premier has charged a special commission of ministers with drafting a new law to replace the emergency decree.
Rights groups have condemned the military's control over the south, with London-based Amnesty International accusing Thai security forces of using "systematic" torture on suspects there.