Thailand excels at throwing out the welcome mat for visitors. In the 50 years since the Tourism Authority of Thailand and Thai Airways were founded, the country has evolved from an obscure, barely visited Southeast Asian backwater to one of the developing world's most expertly marketed travel destinations. It is, today, a magnet for jet-setters and backpackers alike, drawn by the carefully crafted image of a gentle land where the people are always smiling. The 13.5 million visitors in 2009 accounted for 6.5% of Thailand's gross domestic product, reaffirming tourism as the country's single largest foreign-exchange earner and a crucial component to its overall economic health.
Over the past week, however, Thailand's gentle smile has become a grimace, and its welcome mat is stained with blood. On Saturday April 10, violence erupted between soldiers and anti-government protesters in Bangkok, leaving 24 dead and over 800 injured. No one is sure when and how the current political crisis will end. But the effect on tourism is expected to be devastating. Finance minister Korn Chatikavanij predicted that tourist arrivals will be "decimated," and warned that the country could lose two percentage points off its projected 5% GDP growth for the year if order is not rapidly restored. The cost of the political turmoil has yet to be tallied, but more than 70 charter flights hauling tourists from China have been canceled. Federation of Thai Tourism Association President Charoen Wanganon told the Bangkok Post that hotel occupancy in Bangkok had dropped by at least 30% for this time of year.
For hotels near the protest sites, however, the occupancy rate is zero. "This hotel is closed," said a black clad security guard from behind a red metal barrier in front of Bangkok's posh Greek-columned Grand Hyatt Erawan Hotel. "No one can check in. Only check out." Nearby, at the luxurious Four Seasons, Buddhist monks who joined the protest have strung up clothes lines across the manicured entrance garden and are drying their freshly laundered saffron robes. Both hotels are situated near an intersection occupied by tens of thousands of anti-government protesters known as the Red Shirts for the color they wear. The intersection, called Rajaprasong, is the capital's main commercial junction, home to six major shopping malls, several five-star hotels, office buildings housing many of Thailand's top local and international firms, and other businesses, most of which have completely shut down.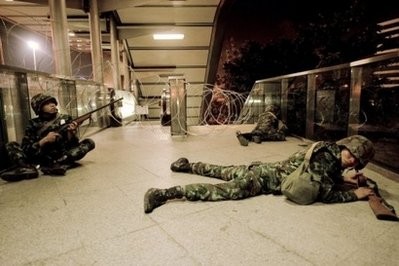 A Thai armed soldier takes up position on a walkway at the entrance to Silom road in the financial district of Bangkok.
Foreign faces on the streets are few - more than 40 countries have now issued travel advisories against coming to Bangkok - but the capital is hardly a ghost town. Not with as many as 30,000 protesters packing the streets at peak times. But with malls and department stores shuttered, sales figures are flat at Versace and Prada, while street vendors selling anti-government red T-shirts, bandanas, flags and hand clappers are raking it in. Ritzy restaurants and fast-food joints are closed while Red Shirts, many of them from the countryside, feast on papaya salad and other spicy northeastern dishes prepared in dozens of roadside kitchens and stalls that are part of the well-planned logistical support organized by protest leaders.
But if the protest atmosphere is at times festive, the mood in the tourism industry is grim. The Tourism Authority of Thailand and other government agencies put a massive effort into repairing the country's image after a different group of protesters, called the Yellow Shirts for their chosen color, invaded and shut down Bangkok's international airport for eight days in late 2008. That was followed by Red Shirt riots in Bangkok in April 2009. The government's damage control campaign had appeared to be paying off, as foreign arrivals rose 17.5% year-on-year for March. But with the protests ongoing and the possibility of more violence still looming, those efforts now appear to be for naught. While most of the prime tourist destinations outside of the capital have not been affected, the specter of unrest and the increasing risks associated with visiting the country are threatening to relegate Thailand to a magnet solely for adventure travelers.