BANGKOK (AFP) -- Thailand's ousted former prime minister Thaksin Shinawatra and his wife have divorced after 32 years of marriage, his spokesman said Saturday.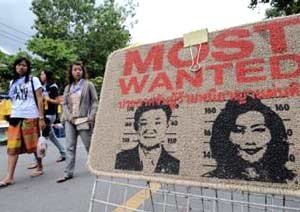 A doormat depicting former Thai premier Thaksin Shinawatra and his wife Pojaman in Bangkok (Photo: AFP)
Thai newspapers reported that Thaksin, who was in power from 2001 until he was toppled in a 2006 coup, finalised the separation from his wife Pojaman at the Thai consulate in Hong Kong on Friday.
The couple have been living in exile since August to avoid jail sentences in their homeland and last week had their British visas cancelled, leaving them searching for a new refuge.
"I have had it confirmed by a credible person in his team that Thaksin and Pojaman have divorced. But I have no details," Thaksin's personal spokesman Phongthep Thepkanjana told AFP.
There was no immediate comment from the Thai consulate or from Hong Kong authorities.
Telecoms billionaire Thaksin announced the divorce at a dinner of MPs from Thailand's ruling People Power Party in Hong Kong on Friday night, the Bangkok Post reported.
The cause of the divorce was not immediately clear, but Thai sources and media reports said it was more likely to be for legal or financial reasons than personal ones.
A source close to Thaksin's family in Thailand confirmed the report but said that it would be a "divorce on paper" for practical or economic reasons.
"Thaksin and his wife remain very close and they are even closer since their problems began in Thailand," the source told AFP on condition of anonymity.
After the coup, Thaksin, 59, and Pojaman, 51, returned to Thailand in February 2008 but fled back to Britain in August after Pojaman and her brother were sentenced to three years in jail for tax evasion.
In October former policeman Thaksin was sentenced to two years in prison in absentia for corruption, and during his travels last weekend Britain revoked their entry visas.
A Thai military intelligence source confirmed that the couple had divorced for legal reasons, including so that Pojaman can return to Thailand to fight her tax evasion conviction case and to re-apply for a British visa.
Anti-government protesters have occupied government buildings in Bangkok since August, accusing the current administration of being a corrupt proxy for Thaksin himself. The new prime minister, Somchai Wongsawat, is Thaksin's brother-in-law.