Thailand's deposed premier Thaksin Shinawatra said Wednesday he never expected the military would stage a coup, but indicated he would not try to cling to power, according to the Thai News Agency (TNA).
   "I didn't expect this incident would happen," Thaksin told reporters on a chartered plane as he headed from New York to London.
 "I was prime minister when I came, and I was jobless on the way back," he told TNA, in his first remarks to reporters since the coup.
   "I volunteer to work for the country," he reportedly said. "If they don't want me to do that, I won't."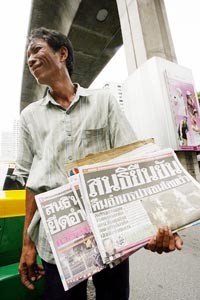 A newspaper vendor sells newspapers about Thailand's armed forces seizing power from Prime Minister Thaksin Shinawatra (AFP)
Thaksin was in New York to attend the UN General Assembly when the military staged the coup late Tuesday. He left Wednesday for London, where he maintains a residence and where he was expected to meet with his family. 
   "I was in contact with my family the entire time this was happening, and I was also in contact with the military," he told TNA.
     Ousted Thai Prime Minister Thaksin Shinawatra was expected in London Wednesday for a "private" visit after the military coup in his homeland, amid deep uncertainty about the country's next step.
   A Foreign Office spokeswoman in London told AFP: "He will be arriving later today. It will be a private visit. It's not in an official capacity. We haven't got details of who will be accompanying him."
   Thaksin, who has property in London and whose daughter is reportedly a student at the London School of Economics, is a regular visitor to the British capital.
Source AFP