Supporters of Thailand's fugitive former prime minister Thaksin Shinawatra were set to gather on the streets of Bangkok Friday for mass protests aimed at toppling the government.
The so-called "Red Shirts" say they will start marching at noon. They expect their numbers to swell to hundreds of thousands on Sunday for the main rally against what they claim is the government's elitist and undemocratic rule.
"Our aim is to topple the government, to force them to make a choice between suppressing us and stepping down," Red Shirt leader Jaran Ditsatapichai told reporters last week.
The rally, to be attended by many from poor, rural areas in the kingdom's north, comes two weeks after Thailand's top court confiscated 1.4 billion dollars of Thaksin's assets, frozen after he was deposed in a 2006 coup.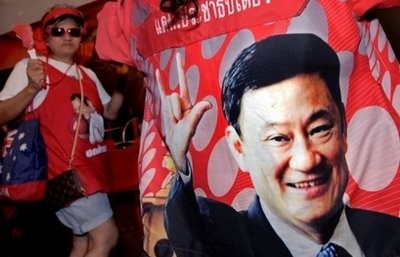 Supporters of fugitive former premier Thaksin Shinawatra dance as they gather at 'Red Shirt' TV station in Bangkok, on March 11.
Senior Reds insist the demonstration will be peaceful, but the government said Thursday it had begun deploying a 50,000-strong security force to oversee the gathering after intelligence reports warned of "sabotage".
Prime Minister Abhisit Vejjajiva has cancelled a trip to Australia that clashed with the rally and a harsh security law has been invoked, which allows the government to call out troops, impose curfews and limit movements.
Thirty-three countries have issued some form of warning to visitors to the kingdom because of the protests, according to the Tourism Authority of Thailand.
"Attacks could be indiscriminate, including in places frequented by expatriates and foreign travellers. You should exercise caution at all times," the British Foreign and Commonwealth Office said on its website.
Bangkok's main airport, which was besieged by protesters in 2008, has made contingency plans for the rallies and The Stock Exchange of Thailand also has measures prepared to ensure trading is not affected between March 12 and 15.
Red Shirt leaders have dubbed the rally a "million-man march" but last week told reporters that up to 600,000 people were expected. The government estimates a figure of 100,000.
Analysts say the number of Reds that actually turn up will be key to deciding whether they have any chance of pushing out the government before Thailand's next elections, due in December 2011.
Thaksin, who made his fortune in telecommunications, has been rallying his supporters via text messages, videolink and his Twitter page from self-imposed exile in Dubai, where he is living to avoid a jail term for graft.
"On (March) 14, come and gather to bring back our lost democracy and justice for future Thai generations," he wrote to subscribers to his phone text messaging service on Wednesday.
He is still a deeply divisive figure in Thailand, where populist measures introduced when he was in power won him supporters, but many in the Bangkok-based elites see him as guilty of corruption and cronyism.
The Reds have held a number of protests since Abhisit came to power in December 2008 after a court decision removed Thaksin's allies from government following a blockade of Bangkok's airports by rival, royalist "Yellow Shirts."