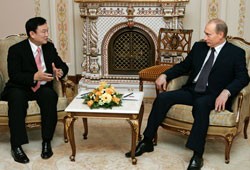 Russian President Vladimir Putin (R) talks to Thailand's acting Prime Minister Thaksin Shinawatra during Ms.Thaksin's visit to Russia (AFP Photo)
The decision came after Thailand's highly influential King Bhumibol Adulyadej urged the Supreme Court's 87 justices to resolve a months-long political crisis that drove prime minister Thaksin Shinawatra from office.
The chief justices of the Supreme Court, the Constitutional Court, and the Supreme Administrative Court will meet Friday to consider whether to nullify the election or to clear the way for parliament to convene, spokesman Charan Pakdithanakul told AFP.
"The meeting of the chief justices of the three courts has been called for April 28," Charan told AFP.
"If the election is voided, a new election date will have to be decided. If it is not nullified, the justices will decide what to do if parliament lacks a quorum of 500 seats," he told local radio earlier.
Thai law prevents parliament from convening until all 500 seats are filled, but after two rounds of voting, 14 seats are still empty because the opposition have boycotted the elections.
"There is a pressing need for the court to take action," Charan said.
All 87 justices on the Supreme Court will meet Thursday to try to take a common position before the nation's three top judges meet, he added.
"We would like to hear their ideas on the principles of law ... before we go to meet with other top court leaders the next day," Charan told AFP.
The announcement came the morning after the king spoke to the Supreme Court justices in his palace, telling them to try to find a way to resolve the crisis and ensure a parliament can open.
He called the April 2 elections "undemocratic," but insisted he would not appoint a new prime minister as the opposition have asked.
The snap polls came after months of street protests against Thaksin, whose critics accuse him of abuse of power. His party won the election, but his victory was undermined by an opposition boycott and a strong protest vote.
The boycott left 40 seats empty, mainly in southern Thailand. By-elections last weekend failed to fill them all, and a third round of voting is slated for Saturday.
Source: AFP