Fugitive former Thai premier Thaksin Shinawatra left Cambodia on Saturday, ending a contentious four-day visit that deepened a diplomatic crisis between the neighbours.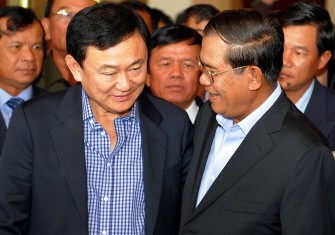 Cambodian Prime Minister Hun Sen (R) talks to former Thai prime minister Thaksin Shinawatra (L) in Siem Reap province, some 314 kilometers northwest of Phnom Penh on November 14, 2009 before Thaksin was due to leave Cambodia. (AFP Photo)
Thaksin, who was toppled by a military coup in 2006 and is living abroad to avoid a jail term for corruption in Thailand, departed the tourist hub Siem Reap by private jet, Cambodia's deputy cabinet minister Prak Sokhon confirmed.
Officials would not disclose his destination. Thaksin has travelled widely since leaving Thailand for exile in August last year, but has based himself in Dubai, while continuing to have a major influence in politics in his homeland.
His visit, to take up a new role as economic adviser to the Cambodian government, created a diplomatic storm between the already bickering nations.
Bangkok was outraged by the appointment and ties plummeted further when Cambodia refused to extradite him to Thailand on the grounds that his graft conviction was politically motivated.
Both countries recalled their respective ambassadors and Thaksin hit out at the Thai government during an economic lecture in the capital Phnom Penh, accusing Thai rulers of "false patriotism".
Before his morning departure, Thaksin chatted at a hotel with Cambodian Prime Minister Hun Sen, a close ally, and political supporters who had travelled from Thailand to meet him.
Some 50 members of parliament from Thailand's main pro-Thaksin party, Puea Thai, waved him off as his plane left the airport.
Cambodia enflamed the row Thursday when it arrested a Thai man in Phnom Penh on charges of spying on Thaksin and expelled the first secretary to Thailand's embassy.
Thailand reciprocated, expelling Cambodia's first secretary from Bangkok.
Siwarak Chothipong, 31, who works for the Cambodia Air Traffic Service, is accused of supplying the Thai embassy in Phnom Penh with details of Thaksin's flight schedule, according to Cambodian police.
Chavanond Intarakomalyasut, secretary to Thailand's foreign minister, said the ministry had submitted a request to visit the detained suspect, which Cambodia's interior ministry confirmed it was considering.
"We have to see him, whatever happens," Chavanond said. "Thailand categorically denies all of the spy allegations."
Hun Sen, who had personally invited Thaksin to Cambodia, has strongly defended his friendship with Thaksin and even played a round of golf with him in Siem Reap on Friday.
Thailand has put all talks and cooperation programmes with Cambodia on hold, torn up an oil and gas exploration deal signed during Thaksin's time in power and placed under review two road-building projects worth 42 million dollars.
Chris Baker, a Bangkok-based political analyst who wrote a biography of Thaksin, said the visit had stoked a "dangerous" row between the two countries, adding Hun Sen would be unwise to fuel it further.
"If Hun Sen wants to take it further it's very easy indeed, but I can't see at the moment what the utility for him would be," said Baker.
"I think he's got it just where he wants it."
Tensions were already high between the two countries following a series of deadly military clashes over disputed territory near the 11th century Preah Vihear temple on their border.
The row comes during a weekend summit of regional leaders with US President Barack Obama, although Cambodia's foreign ministry said Friday it did not want the dispute raised during the historic meeting.
Twice-elected Thaksin fled Thailand in August 2008, a month before a court sentenced him to two years in jail in a conflict of interest case.
He had returned to Thailand just months earlier for the first time since the coup in 2006.
He has retained enormous influence in Thai politics by stirring up protests against the current government, and analysts said that in Hun Sen he had found a new way to push for a return to power.