Fugitive former Thai premier Thaksin Shinawatra accused his country's rulers of "false patriotism" as he delivered a lecture in his new role as Cambodia's economic adviser Thursday.
The billionaire, ousted in a 2006 coup and living abroad to avoid jail for graft, addressed some 300 members of business and government at Cambodia's finance ministry amid tensions over Phnom Penh's refusal to extradite him.
"I see a lot of synergy between your country and mine. What is good for you will also be good for my country. Of course not all my compatriots see it that way right now," Thaksin said.
"I do not believe those who do not share our vision right now are myopic. Their domestic political compulsions force them to false patriotism. Let's pray that they too will one day appreciate this partnership for the best," he added.
Security officials ushered reporters out of the room three minutes into the Thaksin lecture titled, "Cambodia and the World after the Financial Crisis".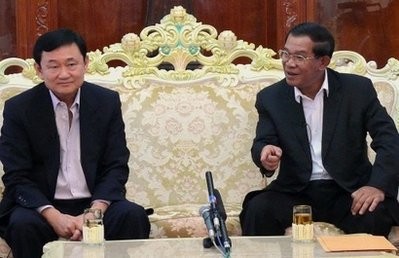 Former Thai prime minister Thaksin Shinawatra (left) and Cambodian Prime Minister Hun Sen give a press conference in Cambodia.
Cambodia
outraged
Thailand
on Wednesday by rejecting its request to extradite Thaksin, saying the charges on which the ousted Thai leader had been sentenced in absentia to two years in prison were politically motivated.
Cambodian Finance Minister Keat Chhon praised Thaksin's reduction of rural poverty and introduction of universal healthcare in Thailand as "eye-catching policies that distinguished him from his predecessors".
After his lecture Thaksin planned to visit the famed Angkor Wat temple and may play golf with Cambodian Prime Minister Hun Sen, said cabinet spokesman Phay Siphan.
He has been warmly received by close ally Hun Sen, although Cambodian officials have said he will only stay in the country for two or three days and is not intending to live there. Profile: Thaksin's political life
When Thai diplomats handed over papers for Thaksin's extradition on Wednesday, Cambodian officials promptly handed them back a formal refusal letter.
In Bangkok, around 120 protesters and 30 taxi drivers with their vehicles rallied outside the Cambodian embassy and delivered an open letter telling Hun Sen not to interfere in Thailand's judiciary, police said.
Dozens of police were deployed at the building.
Thailand and Cambodia recalled their ambassadors last week as the quarrel escalated. Bangkok also put all talks and cooperation programmes on hold and tore up an oil and gas exploration deal signed during Thaksin's time in power.
Thai Prime Minister Abhisit Vejjajiva on Wednesday condemned Cambodia's refusal to send Thaksin back, and said he had halted aid programmes for the neighbouring country, which is still impoverished after decades of war.
Tensions were already high between the two nations following a series of clashes over disputed territory near an ancient temple and the row threatens to mar a weekend summit of regional leaders with US President Barack Obama.
Twice-elected Thaksin fled Thailand in August 2008, a month before a court sentenced him to two years in jail in a conflict of interest case. He had returned to Thailand just months earlier for the first time since the coup.
But he has retained huge influence in Thai politics by stirring up protests against the current government, and analysts said that in his close friend Hun Sen he had found a new way of pushing his campaign for a return to power.
Thailand's government upped the pressure on Thaksin this week by accusing him of offending the revered monarchy after he was quoted by the website of British newspaper The Times as calling for reform of royal institutions.
Defaming the monarchy, led by 81-year-old King Bhumibol Adulyadej, is a crime punishable by up to 15 years in jail in Thailand. The king has been in hospital since September with a lung and chest infection.