Greece's Socialist leader Evangelos Venizelos faced the thankless task of forming a viable government Thursday, a day after a bid by a radical left-wing anti-austerity party ended in failure.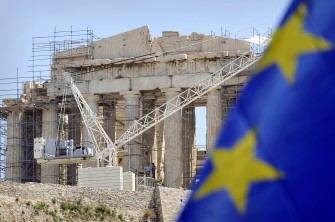 Workers on scaffolding work in front of the Parthenon Temple at the Acropolis archaeological site in Athens on May 9, 2012. Greece remains in a deadlock over forming a new coalition to lead the country and push ahead on severe austerity cuts that were agreed in exchange for international loans.
Mainstream Greek parties, including Venizelos' own, are showing signs of wanting to renegotiate the terms of an international bailout.
But creditors have warned a loan to be paid on Thursday could be the last if Athens reneges on its reform commitments, raising questions over its future in the eurozone.
Alexis Tsipras, leader of the Syriza party, now the second largest in the Greek parliament after the conservative New Democracy group, admitted defeat late Wednesday in his attempt to form a government.
Both the Communists and the Democratic Left had declined to join him in a coalition.
"We cannot make true our dream of a left-wing government," said Tsipras. "Tomorrow I shall hand back the mandate given to me by the president of the republic and we shall continue to take part in the constitutional processes."
Already on Monday, New Democracy leader Antonis Samaras had tried and failed to form a coalition.
Now Venizelos gets his chance as the leader of the Socialist Pasok party, the third-largest presence in parliament after taking a beating in Sunday's election.
But as he struggles to find a way through the political deadlock and avoid the need for another election, he knows that the parliamentary arithmetic is against him.
Voters punished both Pasok and the New Democracy for together having pushed through punishing austerity measures in return for the international loans.
Sunday's election slashed the two parties' combined presence in the 300-seat chamber to just 149, including a 50-seat bonus for New Democracy for being the largest party -- from 201 in the previous parliament.
The other 151 seats are held by parties that campaigned against the austerity programme, from far-left groups such as the communists and Syriza to the neo-Nazi Golden Dawn, which won 21 seats.
That makes it difficult to see how Venizelos could succeed where New Democracy's Samaras failed.
Venizelos helped negotiate Greece's second international bail-out, which was granted on condition the then Pasok-New Democracy coalition government implemented the harsh austerity measures required by the EU and IMF.
But both mainstream parties are now suggesting it will have to be renegotiated.
Venizelos now says Greece needs to "look for the best amendment possible of the terms" of the agreed reforms, and New Democracy leader Samaras said renegotiating the bailout was "certainly realistic".
Their shift echoed the anti-austerity rhetoric of Syriza's Tsipras, who argued that Sunday's overwhelming anti-austerity vote had "clearly nullified the loan agreement and (pledges) sent to Europe and the IMF".
Such talk has angered a number of leaders in Europe, as well as alarming the markets.
Speaking in Berlin, German Chancellor Angela Merkel Wednesday stressed that EU countries that have signed the bloc's fiscal pact for greater budgetary discipline had to keep their promises.
"Everyone must stick to the things we have agreed," Merkel told reporters.
German Finance Minister Wolfgang Schaeuble added: "If Greece wants to remain in the eurozone, there is no better solution than the path it has already taken."
Referring to austerity cuts and reforms in return for loans, he said: "You can't have one without the other."
In Brussels, a European Union official told AFP that Greece would receive a 4.2-billion-euro loan as expected on Thursday, but a further one billion would be held back till Monday.
Eurozone officials who met Wednesday evening "decided to leave the decision on disbursement of one billion to the Eurogroup on Monday," said the source, referring to a scheduled meeting of eurozone finance ministers.
Luxembourg Foreign Minister Jean Asselborn warned that future loans would not be forthcoming unless Greece installed a stable government.
"We have to say to the Greek people right now that the situation is serious, that no European Union country will be able to release even a portion of the 130 billion euros for the Greeks, if there is no functioning government that respects the rules and manages the disbursed money," he said.
Should Venizelos fail to put together a coalition, Greece's president would be forced to call on all parties to form a "unity" government. If that cannot be be done by May 17, new elections will be called.
European stock markets and the euro slid further on Wednesday as investors sought shelter from the strains in the eurozone driven by the political upheaval in Greece and France.
On the eurozone bond market, borrowing rates for Spain and Italy rose sharply while Germany attracted safe haven flows, driving its borrowing rate to record lows.