Tens of thousands of victims of China's Sichuan earthquake were evacuated Monday as torrential rain lashed the region, triggering flood warnings on rivers including the Yangtze and the Pearl.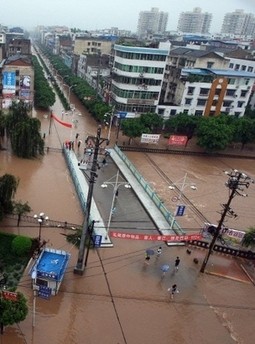 Chinese residents cross a bridge over a river that has overflowed its banks in southwest China's municipality of Chongqing on June 15.(AFP Photo)
Heavy downpours have battered large parts of eastern and southern China, leaving at least 65 dead or missing, and adding to the misery in the quake-ravaged southwestern province.
Up to 70,000 people in Wenchuan township at the epicentre of the May 12 earthquake were being removed due to the risk of rock and mudslides brought on with the onset of the rainy season in Sichuan, the Beijing News said.
"Wenchuan has already entered the rainy season and the rain will weaken even more the already brittle mountain sides, making the situation even worse," the paper said.
Last month's magnitude-8.0 earthquake has left up to 87,000 dead or missing and up to five million homeless in Sichuan.
Wenchuan was flattened during the quake with early rescue and relief efforts mostly flown in due to impassable roads in the mountainous area.
According to local weather reports, the Wenchuan area was expecting thunder showers for the next three days.
In China as a whole, massive rains have left at least 57 people dead and eight missing across nine provinces over the past 10 days, the government said.
More than 1.27 million people have been evacuated in the hardest-hit areas, with large swathes of farmland submerged and economic losses already totalling more than 10 billion yuan (1.4 billion dollars), it said.
Rising waters on China's major rivers prompted the government to issue emergency orders on Sunday as the affected provinces and regions scrambled to prepare for more torrential rains.
"We must fully deploy flood prevention and control work on the Yangtze and Pearl rivers," E Jingping, head of the state's flood prevention headquarters, said in an emergency order posted on its website.
The situation on the Pearl river in southern China's Guangdong and Guangxi provinces was the most pressing with water levels at a 20-year high, E said.
On a tributary of the Pearl in Guangxi they had surpassed warning levels by 6.8 metres (22 feet), he said.
Waters on a Yangtze river tributary in central China's Henan province were up to 4.7 metres over warning levels, he said in transcripts of the meeting posted on the headquarters website Monday.
Almost 18 million people had been affected by flooding while more than 141,000 homes had been wrecked or damaged, the government said.
Rains were expected to further pound southern China in the coming days, with rising river levels threatening towns in Jiangxi, Guangxi and Guangdong provinces, the state meteorological bureau said.