Thousands of opposition supporters were expected to take to the streets of the Georgian capital on Saturday for a third day of protests demanding President Mikheil Saakashvili's resignation.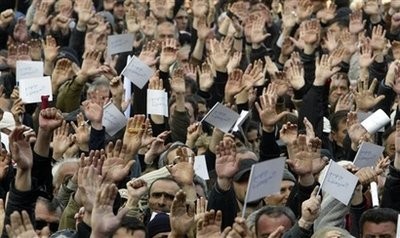 Demonstrators raise their hands during an opposition rally in Tbilisi, Georgia, Friday, April 10, 2009.
Several dozen protesters continued to block Tbilisi's main street early Saturday outside parliament, where large-scale protests were due to begin at 3:00 pm (1100 GMT).
Protesters were expected to again paralyse traffic in central Tbilisi by blocking streets leading to the president's office and the state broadcaster, after announcing a campaign of civil disobedience Friday.
Opposition leader Nino Burjanadze, a former speaker of parliament, said the protest movement was gaining momentum in its battle against Saakashvili.
"The protest feeling among the people is really very high," she said. "It's impossible to imagine how big the protest against this government is. Because this government touched the dignity of the people."
Saakashvili on Friday rejected the calls for his resignation but offered talks with opposition leaders. Some in the opposition said they were ready to sit down with the president, but others said there was nothing to discuss but his resignation.
This week has seen the biggest protests to Saakashvili's rule since last August's war with Russia, with 60,000 rallying on Thursday and 25,000 on Friday.
Opponents accuse Saakashvili of mishandling the conflict with Russia and of becoming increasingly autocratic since he came to power following the 2003 Rose Revolution, a peaceful public uprising.
Both the government and opposition have promised to keep the demonstrations peaceful, but tensions are running high and some fear the protests could turn violent.