Mother Nature boosted firefighters battling an out-of-control wildfire in California that has destroyed dozens of luxury homes and forced thousands to flee.
The blaze in the upmarket coastal town of Santa Barbara, northwest of Los Angeles, exploded into life on Wednesday as powerful hot winds and record temperatures created a perfect storm of fire conditions.
Around 15,000 residents of the picturesque city had been evacuated Thursday as an army of 1,400 firefighters battled to get a grip on the fire, which was estimated to have burned 2,000 acres and was zero percent contained.
Firefighters had been warily bracing for a repeat of infamous local gusts known as "sundowners" which had been forecast to return.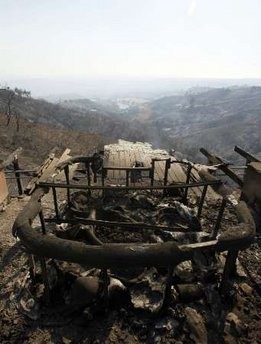 A hot tub that burned during the Jesusita fire is seen in Santa Barbara, California May 7, 2009
However by 5 pm (0000 GMT) local time the winds had failed to materialize, allowing weary fire crews a brief respite from the conditions.
Santa Barbara County Fire Chief Tom Franklin cautioned however that the area was "not out of the woods."
"We're anticipating that that weather could still resurface," Franklin told a briefing.
California Department of Forestry and Fire Protection (CALFIRE) commanders said crews were still assessing the extent of damage but stressed the number of destroyed structures was "in the dozens, not the hundreds."
Franklin said the destruction could have been worse.
"By all rights there maybe should have been hundreds of homes lost, due to the fuel in that canyon and the 70 mile per hour winds," Franklin said. "There was some real effort made on that fire front and some real saves made."
Around 3,500 homes remain threatened by the fire, officials said.
So far 10 firefighters had been injured in the fire. Three were hospitalized with burns and smoke inhalation after a home they were protecting was suddenly engulfed by flames. The firefighters were in a stable condition Thursday.
California Governor Arnold Schwarzenegger has declared a state of emergency to help release resources to fight the blaze.
Schwarzenegger, who toured the area early Thursday, told reporters at a morning briefing that firefighters were hampered by terrain and the weather.
"This fire has been a great challenge, there's no two ways about it," Schwarzenegger said. "The 50 mph winds, the lack of access to the terrain and the dense brush -- all this creates great challenges."
After battling through the night on Wednesday, firefighters got a clearer picture of the devastation caused by the fire as dawn brown, with hillsides reduced to an eerie moonscape of white ash and smoldering ruins.
Although forecast winds had not reappeared, the National Weather Service extended an alert for more gusts to reappear until Saturday morning and authorities appealed to residents to be ready to evacuate rapidly.
"Get out early -- that's our message," said Captain Dave Sadecki of the Santa Barbara County Fire Department.
"If you've been warned, that means pack your car. If you're told to evacuate that means put the keys in ignition and leave."
California is frequently hit by scorching wildfires due to its dry climate, Santa Ana winds and recent housing booms that have seen housing spread rapidly into rural and densely forested areas.
In 2007, California suffered devastation from wildfires among the worst in its history that left eight people dead, gutted 2,000 homes, displaced 640,000 people and caused one billion dollars in damage.
Last November at least 100 homes were destroyed by a wildfire in the celebrity enclave of Montecito near Santa Barbara.