JAKARTA, Aug 29, 2010 (AFP) - A volcano on the Indonesian island of Sumatra erupted for the first time in 400 years Sunday, spewing a vast cloud of smoke and ash into the air and sending thousands of people fleeing from their homes.
Indonesia issued a red alert after the Sinabung volcano erupted, blanketing the area in thick and acrid black smoke, disaster officials said, although no casualties have yet been reported.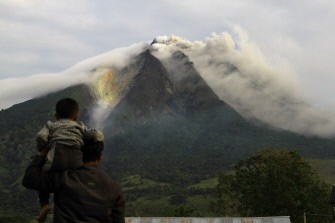 The Sinabung volcano spews thick smoke in Karo district in North Sumatra on August 29, 2010. AFP
"It's clearly dangerous so we've raised the warning to the highest level, or red level," said Surono, head of the nation's volcano disaster alert centre.
"From the crater, it shot smoke and volcanic ash 1,500 metres (5,000 feet) into the sky," he told AFP. "Initially we thought the ash and smoke were triggered by rain but now we know the driving pressure was from magma."
The 2,460-metre (8,100 feet) Sinabung in northern Sumatra has not erupted for more than 400 years but had shown "some volcanic activity" since Friday, Surono said.
"Our team is coordinating with district and provincial officials to monitor the situation," he added.
About 9,300 people have been evacuated from several affected villages to towns -- including Berastagi and Kabanjahe -- outside a six-kilometre "danger zone", search and rescue team official Mohammad Agus Wibisono told AFP.
"The ash has spread to a distance of 30 kilometres (20 miles) from the volcano. Many of the villagers evacuated were farmers and they said the ash had settled on their vegetable farms," he said.
There were however no flight disruptions, Wibisono said.
Disaster Management Agency spokesman Priyadi Kardono told AFP that many residents in four affected villages at the foot of the volcano had fled their homes immediately after the eruption.
"Many had left their homes even before they were evacuated. They said the volcano was spewing thick black smoke, small stones and sulphur. They were so scared they decided to leave their homes and go to the city," Kardono said, adding that a rescue team has been sent to survey the area.
"The area is blanketed with thick smoke and there's a strong smell of sulphur," he added.
He said while there were no reports yet of any deaths or injuries, "many" had reported breathing difficulties.
"We have anticipated that people may have respiratory problems from inhaling dust. So we've given them face masks and are preparing to send in medicines for respiratory infections," he added.
Tents and food are also being arranged for the evacuees and "the situation is under control," Kardono said.
Local media reported that a man had died after experiencing breathing difficulty while fleeing from his village, but Karo district official Andes Mbaga told AFP he had died from heart failure.
"He had a history of heart problems. He was having breathing problems which could have been worsened by the ash and dust floating around," he said.
Evacuees from 18 affected villages are "all doing well" and those who complained of breathing problems are receiving medical help, he added.
"Many of them have removed their face masks. The volcanic activity has also reduced significantly. Lava was emitted during the eruption but it didn't flow out.
"The experts are still monitoring the volcanic activity so we don't know when the status will be downgraded," Mbaga said.
Indonesia sits on the Pacific "Ring of Fire", where the meeting of continental plates causes high volcanic and seismic activity. It has more active volcanoes than any other country.
Earlier this month, four people went missing after the 1,784-metre (5,853-foot) Mount Karangetang, on the remote island of Siau in North Sulawesi province, erupted.
Mount Baru Jari on Lombok island, near the resort island of Bali, erupted in May, spewing ash and lava at least 1,500 metres into the sky, damaging crops but not threatening villagers.