LONDON (AFP) – Tens of thousands of protesters descended on London on Saturday for a huge demonstration against the government's harsh austerity measures, as thousands of police deployed amid fears of violence.
Trade unions organising the rally said more than 100,000 demonstrators were expected to turn out to oppose cuts introduced by the Conservative-Liberal Democrat coalition to tackle Britain's record deficit.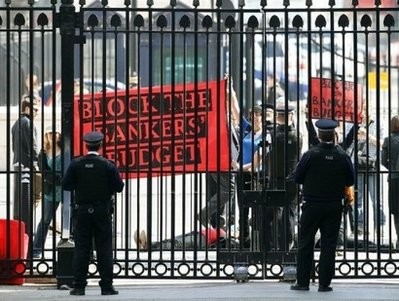 AFP file - British police look on while demonstrators block the main gate to Downing Street on March 23.
Scotland Yard said around 4,500 officers would be deployed, after several huge student protests against plans to triple university tuition fees turned violent late last year.
Teachers, nurses and other public sector workers were being joined by students and pensioners for the march, which was expected to bring the centre of the British capital to a standstill.
After coming to power in May, the coalition announced cuts worth £81 billion ($131 billion, 92 billion euros) over five years in order to slash a record public deficit it blames on the previous Labour government.
Brendan Barber, the head of the Trades Union Congress (TUC), Britain's trade union movement, said Saturday's "March for the Alternative" would be the biggest protest it has organised for decades.
"We're certainly going to see well in excess of 100,000 people, possibly many, many more," Barber said.
"It is to make the case that there is an alternative to this relentless focus on the deficit and austerity that we see from the coalition government," he told BBC radio.
But Education Minister Michael Gove insisted that the protests would not force a change in government strategy.
"Of course people will feel a sense of disquiet, in some cases anger, at what they see happening," he told BBC radio.
"But the difficulty we have as the government inheriting a terrible economic mess, is that we have to take steps to bring the public finances back into balance."
British newspaper reports said between 250,000 and 300,000 were expected, which would make it the largest protest in the capital since around one million people marched against the Iraq war in February 2003.
Barber said the unions would deploy teams of stewards to ensure a peaceful rally because they wanted "nothing to distract" from their message.
The march will start on the banks of the Thames before passing in front of the Houses of Parliament and past Prime Minister David Cameron's Downing Street residence before ending in a rally in Hyde Park.
The officer in charge of policing the march, Commander Bob Broadhurst, said he hoped for minimal use of the controversial tactic of "kettling" protesters by keeping them confined in small areas.
The cuts announced involve most government departments, with the loss of 300,000 public service jobs and pay freezes for civil servants.
Several student demonstrations descended into violence last year, with one culminating in protesters damaging the car carrying heir-to-the-throne Prince Charles and his wife Camilla.
The latest march takes place just days after finance minister George Osborne delivered his annual budget on Wednesday. He had already announced the cuts via an emergency budget and spending review last year.