More than 15,000 people took to the streets of Zaragoza in northeastern Spain Saturday to protest feared job cuts at the Opel auto plant by Canadian car parts maker Magna.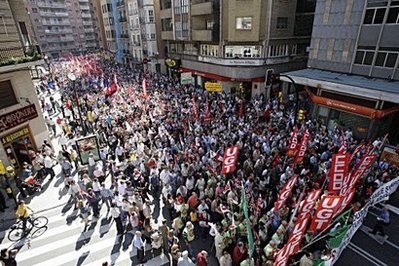 Workers from a factory of automaker Opel of the town Figueruelas demonstrate in Zaragoza against the decision to sell the factory to a consortium led by Magna, which plans to cut jobs at the site

Opel workers carried banners reading "Opel and its subcontractors: for a viable industrial plan" and "We are going to win this fight."
Under a deal unveiled on September 10, US auto giant General Motors agreed to sell a 55-percent stake in Opel to Magna and to state-owned Russian lender Sberbank. GM will retain 35 percent and employees the rest.
The deal covers all GM's European operations except Swedish unit Saab.
With Magna expected to cut 10,000 jobs, there are concerns throughout Europe over where the axe would fall.
Opel has about 7,000 employees at its factory in the Spanish city of Figueruelas near Zaragoza, in the northeastern region of Aragon.
The head of the Opel works council in Spain Saturday called for a "firm and massive" rejection of the planned job cuts.
The mayor of Zaragoza, Juan Alberto Belloch, called on Spanish Prime Minister Jose Luis Rodriguez Zapatero to become personally involved in the debate.