Indonesia said Thursday it feared thousands had died in a major earthquake as exhausted rescue workers clawed through mountains of rubble with their bare hands in a race to find survivors.
The first rescue flights laden with food, medicine and body bags arrived in the devastated region on Sumatra island as another powerful quake struck further south, causing more injuries and sparking panic.
Wednesday afternoon's 7.6-magnitude quake toppled buildings and led to fires in Padang, home to nearly a million people on the coast of Sumatra, leaving the city largely without power and communications.
"The latest figures we have suggest the death toll has risen already to 1,100," UN humanitarian chief John Holmes told a press briefing at the United Nations.
Holmes said hundreds more were injured and the numbers of dead and hurt were likely to rise as the full scale of the tragedy unfolds.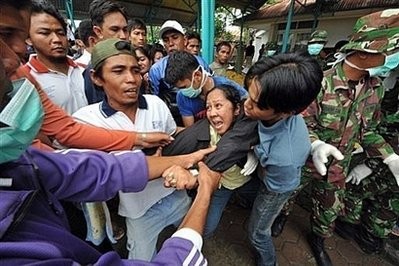 A woman is carried screaming from a hospital in Padang
Many districts remain inaccessible to emergency services. Related article: Indonesian rescue efforts
"Our prediction is that thousands have died," Indonesian health ministry crisis centre head Rustam Pakaya said earlier.
Rescue teams from the Indonesian army and health ministry descended on the city and surrounding towns to hunt for survivors in the twisted wreckage of collapsed buildings and homes, with work expected to go on into the night.
In pouring rain that hampered rescue work early in the day, overwhelmed police and soldiers clawed through the tangled remains of schools, hotels and the city's main hospital, the M. Djamil hospital.
Padang, which lies between the Indian Ocean and the Bukit Barisan mountains, was a chaotic mass of traffic jams and rubble set against the constant din of sirens as ambulances tried to negotiate the gridlock. Scene: Padang residents face night in rubble
At the M. Djamil hospital, a constant stream of injured residents were dropped off at hastily erected tents where doctors worked frantically.
Emilzon, a medic who gave only one name, said they were treating hundreds of people for broken bones, head injuries and trauma, mostly sustained when the quake hit.
"We are running out of doctors and nurses because we are overwhelmed with patients," he said.
In front of a collapsed school, 49-year-old mother Andriani waited in tears as police picked through the rubble in search of her 14-year-old daughter and dozens of other children believed trapped.
"I've been waiting here since yesterday. I haven't been home yet and keep praying to God my daughter is alive," she said, her reddened eyes darting back and forth across the rubble for signs of life.
Police said the bodies of eight children had been hauled from the school, a college where they had been taking extra tuition, while another nine youngsters had been pulled out alive.
Authorities said there was a desperate shortage of heavy machinery but the military said planes loaded with tents and blankets had been dispatched to help the thousands left homeless by the disaster.
Indonesian President Susilo Bambang Yudhoyono, who returned from the United States and flew to Padang, said emergency services should prepare for the worst.
"It's better to overestimate than to underestimate," he told reporters. "It is better to send more enforcement, especially in emergency aid... which can help those who are still buried in the rubble."
US President Barack Obama said he was "deeply moved" by the loss of life and suffering as Washington announced 300,000 dollars in immediate aid and set aside another three million to help quake victims.
"Indonesia is an extraordinary country who has known extraordinary hardships from natural disasters. I know that the Indonesian people are strong and resilient and have the heart to overcome this challenge," said Obama, who spent part of his childhood living in Jakarta.
The Indonesian government said it had approved 26 million dollars in cash to help victims. International aid groups dispatched relief teams.
But many victims complained that assistance had been too little too late.
"This is the worst that I can remember. Look at the houses in this village. Many have been destroyed," Mas Indik, a 67-year-old farmer on the outskirts of town said.
"We haven't received any help. We need tents immediately as it's raining. We need drinking water," he said.
The quake struck off Sumatra's west coast, 47 kilometres (29 miles) northwest of Padang on a major faultline that scientists have long warned was set to release pent-up energy.
A massive 9.1-magnitude quake off Aceh in northern Sumatra triggered the 2004 Indian Ocean tsunami that killed more than 220,000.
Indonesia sits on the volatile "Ring of Fire," an arc of seismic instability around the Pacific rim.