MANILA, Aug 2, 2009 (AFP) - Thousands of mourners paid their last respects to former Philippine President Corazon Aquino on Sunday, lining up to file past her coffin in silent tribute to the "People Power" democracy leader.
Aquino, who died at the age of 76 on Saturday after battling colon cancer, led millions of Filipinos in protests against dictator Ferdinand Marcos in a popular revolt in 1986, before taking over as president.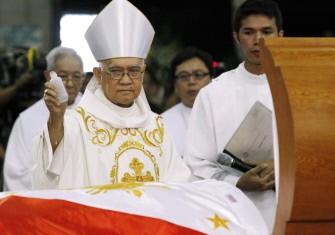 Filipino Bishop Angel Lagdameo (L) blesses the casket of the late Philippine president Corazon Aquino at a ceremony at the La Salle school gym in the Manila suburb of Mandaluyong on August 2, 2009. (AFP photo)
World figures led by US President Barack Obama paid tribute to Aquino as "an inspiration", while President Gloria Arroyo cut short a US visit, declaring 10 days of mourning for the woman she described as a "national treasure".
Aquino was to be buried on Wednesday in a family-led ceremony, after it rejected a government offer of a state funeral, her youngest daughter Kris Bernadette Aquino said.
Schools across the country were to close for the day as the former president is laid to rest beside the southern Manila grave of her husband, Benigno "Ninoy" Aquino, who was assassinated in 1983 after flying home from exile to lead the anti-Marcos opposition.
Thousands of ordinary Filipinos, many of them wearing yellow clothes or ribbons, the symbol of the revolution that swept her to power, have been filing past her coffin since Saturday night when it was opened for public viewing at a Roman Catholic school gymnasium in Manila.
"I was able to see her when she was inaugurated, so I want to see her one last time," said Lotty Yalung, a 54 year-old cashier who patiently lined up on the street outside the school gates.
Yalung said she was at the wake "as a sign of gratitude for helping bring down the dictatorship."
Tributes came in from around the world for the woman who served as president from 1986 to 1992, during which time she restored the country's democratic institutions and survived several bloody coup attempts.
Obama said in a statement he was "deeply saddened" by Aquino's death, adding that "her courage, determination, and moral leadership are an inspiration to us all and exemplify the best in the Filipino nation."
Pope Benedict XVI remembered Aquino as a "woman of deep and unwavering faith", while former first lady Imelda Marcos said her family joined the nation in mourning and praying for the ex-president.
Manila newspapers marked Aquino's passing with emotional headlines such as "Farewell Tita (Aunt) Cory" and "What a great gift we've lost."
In Manila's Makati financial district, huge posters of Aquino went up while neighbours left flowers and lit candles outside the family home. Special masses were held across the overwhelmingly Catholic country.
Aquino, who described herself as "a simple housewife" rose to prominence when her husband, who was seen as the main figure opposing the Marcos regime, was shot dead.
She reluctantly agreed to become the opposition figurehead and ran against Marcos, who jailed thousands during his 20-year rule, in elections in 1986.
Massive cheating by Marcos allies during the elections ignited the revolt that eventually sent the dictator fleeing into exile and installed Aquino as president.
The soft-spoken, bespectacled Aquino rewrote the country's constitution, freed all political dissidents jailed by Marcos, and initiated peace talks with insurgent groups.
But problems in her coalition later emerged, and she survived a series of bloody coup attempts by the same forces that went against Marcos.
"I realised that I could have made things easier for myself if I had done the popular things rather than the painful but better ones in the long run," Aquino once said while reflecting on her presidency.
Until March last year, when she withdrew from public life after being diagnosed with colon cancer, she had been active in street protests denouncing government corruption and demanding president Arroyo's resignation.