Pakistani President Asif Ali Zardari denied his nuclear-armed nation was on the verge of collapse as top US officials Sunday welcomed his government's bloody military offensive against the Taliban.
"Is the state of Pakistan going to collapse?" Zardari said in an NBC interview aired Sunday, after White House talks last week with President Barack Obama that were also attended by Afghan President Hamid Karzai.
"No. We are 180 million people. There the population is much, much more than the insurgents are," Zardari said, fending off a mounting clamor against his leadership from US lawmakers.
Zardari admitted that Pakistan had "a problem" with the fundamentalist Taliban militia inside its borders and called for an international approach to extremism as a whole, "because it's not Pakistan-specific."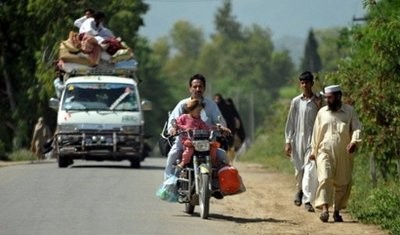 Pakistani civilians flee as the military launches fresh attacks on Taliban militants in Malakand on May 9
More than 100,000 panicked people fled Pakistan's northwest region as the government briefly relaxed a curfew to allow civilians to escape a fierce onslaught against Taliban insurgents.
Pakistan's military said that about 200 rebels had been killed in the last 24 hours in the troubled region, where families crammed into already overcrowded vehicles or set off on foot in flight from further bombardments.
Some were stuck on the roads out of Swat's main town Mingora, as the curfew was reimposed before they were able to reach safety.
"I left Mingora about 10 hours ago," said 35-year-old Aziz Ahmed as his mother, wife and three children waited in his car.
"The road is completely closed and we cannot move... There are no shops, restaurants for food -- we can only drink water from the springs."
Aid agencies say they fear a major humanitarian disaster as security forces pound militant hideouts and key towns in and around Swat, a former tourist hotspot torn apart by a two-year insurgency led by the Islamist hardliners.
Up to 500,000 people are already believed to have left or be preparing to leave their homes in Swat and nearby Lower Dir and Buner districts, the UN refugee agency has said, many crowding into hastily-set up camps.
"My information is that more than 100,000 have already managed to leave Swat during the curfew break today (Sunday)," said forestry minister Wajid Ali, who is also a lawmaker from Swat's main town Mingora.
The curfew was relaxed between 6:00 am (midnight GMT) and 3:00 pm in areas of Swat and neighbouring Malakand district.
With the government unable to provide transport for the desperate diaspora, witnesses said people were grabbing what they could and streaming into thousands of vehicles or setting off on foot with their meagre belongings.
"I have just 4,000 rupees (50 dollars) cash and some clothes," said 24-year-old Asifa as she stood at the bus stop clinging to her three children.
"There is nobody to help me. It is everybody for themselves. I am willing to sit even on the roof of the bus, but there is no place."
Local administration chief Khushhal Khan told AFP that traffic on the main road out of Mingora was stopped because of troop movements, and another official said that even those on foot were being ushered elsewhere late Sunday.
"Vehicles stranded on the main road have been directed to take a side road," said Arshad Khan from Malakand.
Khushhal Khan said earlier that five more camps had been set up in North West Frontier Province, as fears grew for the refugees' well-being.
"The crisis threatens to be the largest man-made humanitarian disaster in Pakistan's post-independence history," the British-based charity Muslim Aid said in a statement on Sunday.
Thousands of Pakistani troops backed by warplanes and helicopter gunships are involved in the massive operation against Taliban and extremist fighters in the area, where jet fighters were pounding suspected rebel hideouts.
Pakistani security forces mounted operations across several northwestern districts late last month after the hardline Taliban advanced to within 100 kilometres (60 miles) of Islamabad.
The military claims to have killed nearly 400 militants since Friday -- including about 200 in the past day alone -- although the death tolls could not be confirmed independently because of the ongoing military operation.
The army said in a statement that between 50 and 60 militants were killed across Swat, while fighting also seeped into nearby Shangla district, where they said a training camp was destroyed, killing between 140 and 150 rebels.
In Lower Dir, five insurgents were killed while two soldiers also died in the fighting in the last day, it added.
The statement also accused the militants of causing civilian casualties by planting bombs and firing mortar rounds at populated villages, although people fleeing the area say the army bombardments have also claimed civilian lives.
The fighting has sunk a controversial February deal between the government and a pro-Taliban cleric that aimed to put three million people under sharia law in a bid to end the deadly insurgency.
Critics in Washington said the deal emboldened the Taliban and have welcomed the Pakistani civilians flee as the military launches fresh attacks on Taliban militants in Malakand on May 9