TOKYO, April 10, 2011 (AFP) - Some 22,000 soldiers were Sunday engaged in an intensive search for bodies along Japan's northern Pacific coast as the country prepared to mark a month since the March 11 earthquake and tsunami.
Ninety aircraft, 50 vessels and 100 divers were looking for corpses swept out to sea, while 14,000 ground troops combed through the remains of houses, mangled vehicles and piles of rubble on land.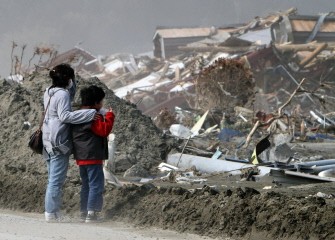 AFP file - In a file picture taken on April 2, 2011 a mother (L), whose husband and father have been missing in the tsunami disaster, and her son visit their residencial area where all houses were washed away by the tsunami at Rikuzentakata, in Iwate prefecture.
Around 15,000 people are still unaccounted for, with 13,000 confirmed dead in Japan's worst disaster since World War II.
"In onshore areas, we are searching under debris and in flooded areas," a spokeswoman for the Ground Self Defence Forces said.
"We have (helicopters and planes) flying above the coastal areas, river mouths and large flood zones," she added.
The US military has sent 110 personnel and two aircraft to join the one-day search.
"It is almost a month now and many people still remain under the rubble," the spokeswoman said.
"We are still recovering 80 to 100 bodies every day. We must find them as quickly as possible," she said.
The maritime search was focusing on waters off hard-hit Rikuzentakata, a tiny city in Iwate prefecture that was largely destroyed by the tsunami.
The community has become a symbol of the tsunami's destructive force with its mayor, who lost his wife to the disaster, working tirelessly to share the city's experience with the rest of Japan.
Bodies washed out to sea normally surface after two or three weeks because of the accumulation of gases, the spokeswoman said, adding that they usually deflate after that, making searches more difficult.
A similar mass search was conducted last weekend for three days over the same coastal areas, but only led to the discovery of about 80 bodies.