Police held back thousands of protesters attempting Friday to punch through a cordon around Thailand's government offices, which demonstrators vowed to peacefully besiege until the prime minister resigns.
One group of about 1,000 protesters managed to break through a line of around 200 police officers and descended upon Government House, but were stopped just short of entering the compound by other security forces. Another group of several thousand pushed against police armed with shields and clubs.
A protest leader, Chamlong Srimuang, said some 10,000 demonstrators were converging on the compound, but their numbers could not be independently verified.
The protesters, spearheaded by the People's Alliance for Democracy movement, claim that Prime Minister Samak Sundaravej's government is a proxy for former Prime Minister Thaksin Shinawatra, who was ousted in a 2006 military coup.
The alliance led mass demonstrations before the coup demanding Thaksin step down for alleged corruption and abuse of power.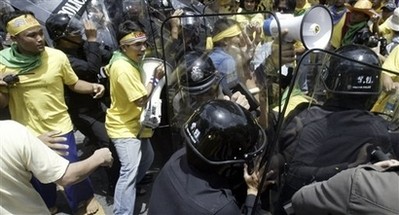 Protesters demanding the resignation of Thailand's prime minister scuffle with police as they march through the streets during a demonstration Friday, June 20, 2008, in Bangkok, Thailand
They now accuse Samak's government of interfering with corruption charges against Thaksin and trying to change the constitution for its own self-interest.
Although facing criminal charges for alleged corruption, Thaksin remains a powerful figure in Thailand.
The protesters, most of them gathered at a major intersection, were within sight of the government seat Friday, but police, equipped with large trucks, tear gas and water cannons, threw a tight ring around the compound.
Reporters saw about a dozen protesters sustain minor injuries during the scuffles. But elsewhere, an almost festive atmosphere prevailed as protesters waved, cheered and chatted with security officials.
Police spokesman Maj. Gen. Surapol Tuanthong said around 5,000 police were deployed to block roads and prevent "the mob" from getting near Government House, a compound of ornate buildings from the 1920s set on 11 acres of land.
Samak was not expected to be at the compound on Friday.
Government spokesman Wichianchote Sukchotrat said schools and government offices around Government House were ordered to close Friday for safety reasons and "to allow police to work smoothly."
The demonstrators — claiming their ranks would swell to 100,000 as reinforcements converge from across the country — have been in Bangkok's streets for the past three weeks.
During a meeting televised on the evening news Thursday, Thailand's revered King Bhumibol Adulyadej urged Samak to keep his pledges to do good for the nation.
"I expect that you will do what you have promised and when you can do that, you will be satisfied," the king said.
Samak's People's Power Party won general elections last December. His Cabinet is packed with Thaksin's allies, and critics say rehabilitating the former leader is among the government's top priorities.