Tens of thousands of demonstrators rallied in Tokyo on Monday calling for an end to nuclear energy in Japan after the March 11 disaster that sparked the worst atomic crisis since Chernobyl.
About 60,000 people gathered for the anti-nuclear rally, organisers said, one of the biggest since the earthquake and tsunami and the following disaster at the Fukushima Daiichi power plant.
"No more nuclear power plants! No more Fukushimas!" the demonstrators chanted under scorching sunshine as they flocked to Meiji Park, in the centre of the capital, ahead of the march.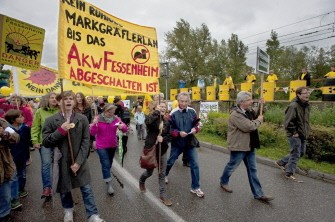 People take part in an anti-nuclear power demonstration on September 18, 2011 in the French eastern city of Chalampe, near the German border. German, Luxembourger and French antinuclear activists organized several protests in Europe to mark the Japan's nuclear accident at Fukushima and to demand the closure of nuclear power stations, notably Fessenheim's one in France.
The demonstration, organised by several anti-nuclear groups, also saw residents evacuated from areas outside the Fukushima Daiichi plant some 220 kilometres (136 miles) northeast of Tokyo take part.
Japan's new Prime Minister Yoshihiko Noda has pledged to draw up a new energy policy focusing on renewable energy sources but stopped short of ruling out the future use of nuclear power following the Fukushima disaster.
Japan had previously aimed to use nuclear power to generate around 50 percent of its energy needs by 2030 in a bid to reduce greenhouse gas emissions and enhance the energy independence of the resource-poor archipelago.
But sentiment has shifted since the quake and tsunami crippled the plant's cooling systems, sparking reactor meltdowns that spewed radiation into the environment forcing tens of thousands to evacuate from a 20 kilometre radius.
Radiation fears have become part of daily life after cases of contaminated water, beef, vegetables, tea and seafood due to the Fukushima accident. The government has been at pains to stress the lack of an "immediate" health risk.
Reactors that were halted for routine inspections have not been restarted amid a public backlash against nuclear power, and currently only 11 of Japan's 54 reactors are online.