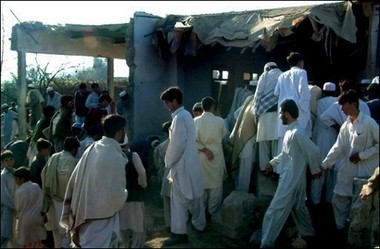 Pakistani tribesmen gather around am Islamic school destroyed by gunships in Khar
Thousands of tribesman chanting "Death to America" rallied against the Pakistani and US governments ahead of nationwide protests over a raid on an Islamic school that killed 80 people.
Pakistan launched its deadliest ever airstrike on Monday against a religious college or madrassa in the troubled Bajaur tribal region bordering Afghanistan, saying it doubled as an Al-Qaeda-linked militant training camp.
But Islamists insist the dead were students and more than 5,000 bearded tribesmen wearing turbans protested on Tuesday in Khar, the main town in the rugged region to condemn the pre-dawn attack.
The tribesmen recited religious poetry and shouted "Death to Bush" and "Death to Musharraf", an AFP correspondent said. Pakistan President Pervez Musharraf is a key ally in US leader George W. Bush's "war on terror".
Authorities closed all entry routes to the mountain-fringed town to prevent outsiders from coming into Bajaur and to keep law and order, a local administration official said.
Islamist leaders accused the United States of either ordering the strike on the madrassa, which Pakistan says was launched by its own helicopter gunships, or of actually carrying out the raid using Predator drones.
Pakistan's biggest coalition of religious parties, the Muttahida Majlis-e-Amal (MMA -- United Action Front) has also called protests in several cities.