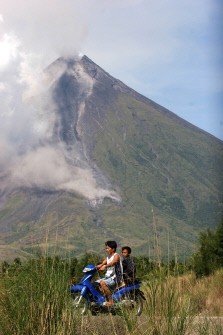 This photo taken on December 18, 2009 shows residents on a motorbike riding past the Mayon volcano spewing ash into the air in Legazpi, Albay province, southeast of Manila. (AFP photo)
LEGASPI, Philippines, Dec 21, 2009 (AFP) - More than 3,000 villagers who are refusing to quit a no-go zone around the Philippines' rumbling Mayon volcano risk forcible evacuation if they do not leave, officials said Monday.
Scientists warned that powerful booms emanating from the Southeast Asian country's most active volcano, located about 330 kilometres (200 miles) southeast of Manila, indicated that a major eruption was imminent.
The eerie glow of crimson lava could be seen oozing from the volcano overnight, and relief officials said farmers and other residents who had refused to evacuate faced the additional danger of suffocating ash explosions.
"We will physically remove the residents who refuse to evacuate to their designated evacuation centres," Albay provincial Governor Joey Salceda said after volcanologists raised the alert level to four on a five-point scale.
Level four means that an "explosive eruption is possible within hours or days", according to the Philippine Institute of Volcanology and Seismology.
There are still 729 families or more than 3,000 people staying put on the edges of an eight-kilometre danger zone that has been declared around Mayon, local disaster preparations chief Cedric Daep told AFP.
Just over 9,200 families or nearly 44,400 people have already taken shelter in evacuation centres since Mayon started belching ash, steam and lava last week.
Salceda said, however, that the military and police would refrain from using excessive force after the government's Commission on Human Rights warned authorities against forcing people out at gunpoint or with batons.
In past Philippine evacuations, hold-out residents have been carried onto military trucks by unarmed troops and police personnel.
Many villagers farming Mayon's fertile foothills do not want to abandon their livestock, officials said.
In an effort to persuade people to leave, Salceda ordered the provincial veterinary office to bring all cows and water buffaloes to a government agricultural station so they would also be safe.
If the alert level is raised to five, meaning that an eruption is in progress, another 16,000 villagers living beyond the danger zone would also have to be evacuated as a precautionary measure, Salceda said.
Scientists underlined the growing threat of ash and lava cascading down Mayon's slopes owing to the increasing frequency of booms from inside the volcano, audible as far as 12 kilometres away.
"We cannot say exactly when the hazardous eruption is likely to occur," chief government volcanologist Renato Solidum said in a television interview.
But he stressed: "The important thing is the distance from the volcano. That is why it is important that people not be inside the danger zone."
Mayon oozed lava and vented steam for two months when it last erupted in 2006. No one was killed by the eruption itself.
But three months later, a powerful typhoon dislodged tons of volcanic debris that had collected on Mayon's slopes. The avalanche of mud and boulders crushed entire villages, leaving more than 1,000 people dead.
The 2,460 metre (8,070 foot) volcano, which is famed for its near-perfect cone, has erupted 48 times in recorded history. In 1814, more than 1,200 people were killed as lava buried the town of Cagsawa.