The threat of a Turkish military strike on Kurdish rebels in northern Iraq grew Saturday after crisis talks with an Iraqi delegation failed to satisfy Ankara.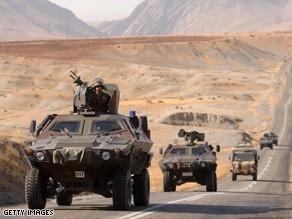 A Turkish army convoy heads toward the Turkey-Iraq border on Monday. (AFP Photo)
Newspapers reported that the army was massing more forces along the Iraqi frontier, with F-16 fighter jets ready for "orders to strike". Prime Minister Recep Tayyip Erdogan said the country was on a "constant state of alert".
But the diplomatic focus has turned to contacts with the United States including Erdogan's talks in Washington next month which analysts said could still avert military action.
An Iraqi delegation, led by Defence Minister Abdel Qader Mohammed Jassim was to leave Ankara on Saturday after its proposals to curb Kurdish separatist rebels were rejected by Turkey, an Iraqi embassy official said.
Tensions have risen since the Turkish parliament last week gave authorisation for a military operation against Kurdistan Workers' Party (PKK) bases in northern Iraq.
Turkey has reported killing more than 60 PKK fighters in clashes since last Sunday when a rebel ambush on a military patrol along the border left 12 soldiers dead. Eight Turkish soldiers were also captured.
After Friday's talks, Turkey said the Iraqi proposals to curb the PKK would take too long to implement.
The Iraqi minister proposed international coalition forces patrolling the Turkish-Iraqi border to prevent infiltration by Kurdish rebels. He also suggested direct talks between the Turkish, Iraqi and US military and the revival of a tripartite panel to coordinate efforts to curb the separatists.
But Turkey reaffirmed calls for "urgent and determined" action against the PKK, which is considered a terrorist organisation by Turkey, the United States and much of the international community.
Turkish media said that a Turkish incursion was getting closer after the failure of the talks.
"Iraqi proposals empty. Cross-border operation at the doorstep," the pro-government Zaman newspaper said, while the popular Vatan said the crisis was at a "breaking point."
The mass-circulation Hurriyet accused Iraqi officials of "clowning" in the face of Turkish demands for the arrest and extradition of PKK leaders.
But Prime Minister Erdogan signalled on Friday that action may be put off until after he meets US President George W. Bush in Washington on November 5.
Erdogan said military action was part of a "process" which includes his White House meeting with Bush.
He warned, however, that "what may or may not happen until (my) trip to America, I cannot say -- we are now in a constant state of alert."
Before the talks, US Secretary of State Condoleezza Rice is to visit Ankara on November 1. She will attend an international conference on Iraq in Istanbul the following two days.
A Western diplomat commented that Turkey's talks with Rice and Bush could still provide "escape channels" out of the crisis.
Erdogan's government, he told AFP, is reluctant to send the army to northern Iraq but "it is walking a tightrope and this ... is becoming more and and more dangerous."
Washington fears that a Turkish incursion into northern Iraq may destibilise a relatively peaceful region of the war-torn country and leave it in limbo between two allies -- NATO-member Turkey and the Iraqi Kurds, who run an autonomus administration of northern Iraq.
Turkey accuses the Iraqi Kurds of tolerating and even supporting the PKK, which has fought for Kurdish self-rule in southeast Turkey since 1984 in a conflict that has claimed more than 37,000 lives.