MANILA, Dec 24, 2009 (AFP) - Three people were killed and 24 missing Thursday after two boats collided in darkness near Manila during the Christmas holiday rush, the latest disaster to hit the Philippines in a year of tragedy.
Three bodies, including that of a woman in a life vest, were retrieved from the waters of Manila Bay following the early-hours collision between a flimsy passenger boat and a deep-sea fishing vessel, the coastguard said.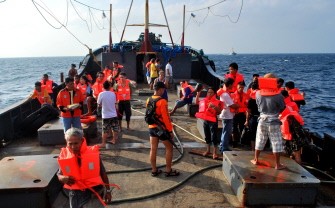 Handout photo taken and released on December 24, 2009 by the Philippine Coastguard shows survivors of the vessel (AFP photo)
"We now have three dead," coastguard spokesman Commander Armando Balilo said. "Twenty-four others are still missing."
The bodies were found floating near the submerged wreck of the Catalyn B, a wooden-hulled passenger vessel that sank after it rammed into the fishing boat at 2:25 am (1825 GMT Wednesday).
An emergency operation in the busy waterway quickly swung into action, saving 46 people. However, the coastguard said 24 others remained missing out of the 73 who were known to be aboard the passenger boat.
"Catalyn B smashed into the side of the fishing vessel," said the regional coastguard chief, Commodore Luis Tuazon.
"This is a small vessel with a single wooden hull. Water rushed in and the vessel sank not long after the collision," he said over local radio.
"It is clear there was a problem in observing the rules," he added, saying that one or other of the vessels must have failed to take evasive action to avoid a collision.
Tuazon said a marine inquiry would establish which of the two crews was at fault. All but one of the crew members have been accounted for, he added.
The other vessel -- a 369-tonne fishing boat named Nathalia -- was damaged but was afloat and later helped in the rescue, spokesman Balilo said.
The mishap occurred as the Catalyn B was making its way to Lubang island southeast of Manila. It sank to a depth of 67 metres (220 feet), and officials said they were awaiting divers to check its wreckage for any more bodies.
The Nathalia was on its way back to a port in northern Manila after an extended fishing trip in the southern Philippines, and sustained no casualties, the officials said.
A coastguard statement said an air and naval search was continuing, with other private ships diverting from their course to join the rescue.
Ferries form the backbone of mass transport in the archipelago nation of 92 million people.
Officials say bad weather, poor maintenance, overcrowding of vessels and lax enforcement of regulations have contributed to disasters, and water voyages in the busy Christmas period are particularly fraught with danger.
The world's deadliest peacetime maritime disaster occurred south of Manila in 1987 when a ferry laden with Christmas holidaymakers collided with a small oil tanker, killing more than 4,000 people.
In June 2008 another ferry sailed into a typhoon and tipped over off the central island of Sibuyan, leaving almost 800 dead.
A series of tragedies have struck the Philippines over recent months.
In September, the first of two powerful tropical storms battered the nation, claiming more than 1,000 lives and wreaking devastation across large swathes of the country.
In November, 57 people were slain in an election-linked massacre in a lawless region in the country's south.
And more than 47,000 people are facing Christmas in evacuation camps and temporary accommodation around Mount Mayon, south of Manila, as the rumbling volcano threatens a violent eruption.