At least three people died while 22 others were missing after a small inter-island ferry sank in waters south of the Philippine capital, the coast guard said Sunday, the second sea disaster in three days.
The MV Baleno-9, carrying 88 passengers and crew, began listing and went down just before midnight near Batangas City, the coast guard said.
Ships in the area rescued 63 passengers but three bodies were later recovered by the coast guard and 22 are still unaccounted for, coast guard chief Admiral Wilfredo Tamayo said.
Passengers told the coast guard that the roll-on ferry began taking on water from the bow ramp.
This "severely affected the stability of the vessel causing her to badly list and eventually sink," the coast guard report said.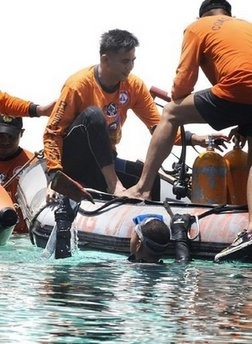 A Coast Guard diver prepares to search for bodies after a ferry capsized in 2008 in the Philippines
Search vessels and aircraft have been dispatched to locate any more survivors in the area where the ferry went down.
"Hopefully, their flights will not be fruitless and they may find a few more of the missing," said coast guard spokesman Commander Armand Balilo.
He noted that the ferry had sufficient life vests and life rafts and that this may have allowed more of those on board to escape alive.
Tamayo said they could not give an exact reason why the ship apparently began to take on water, before eventually sinking.
"It did not hit anything. Our first finding is it ran into huge waves. This would have put pressure on the (bow) ramp but we still have to get more details. We are getting accounts from the survivors," he told local radio.
Coast guard officials said the captain of the sunken ferry had been rescued and that maritime investigators had interviewed him, but no details had been released.
Sunday's disaster comes barely three days after a wooden passenger boat Catalyn B was hit by a fishing vessel and sank near Manila on Thursday, leaving four dead and 23 missing.
The coast guard recalled staff who were on leave to carry out the two search and rescue operations, Balilo told AFP, adding that no more survivors from Thursday's sinking had been found.
"Our suspicion is growing that they were trapped inside the ship," which sank in seconds according to survivors' accounts, he said.
A special diving team was searching for bodies inside the Catalyn B, he added.
Shipping accidents are common in the Philippines and usually involve poorly-maintained, overloaded ferries which form the backbone of travel between the archipelago's islands.
Ferry passenger numbers in the Philippines usually surge over the Christmas period with many travelling home to visit relatives over the holidays.
The world's deadliest peacetime maritime disaster occurred south of Manila in December 1987 when a ferry carrying Christmas holidaymakers collided with a small oil tanker, killing more than 4,000 people.