Three men were found guilty in Britain of plotting to blow up at least seven transatlantic airliners using liquid explosives, as questions were raised Tuesday about the US role in the probe.
British court on Monday convicted the trio over the plot, which prosecutors said would have been a "terrorist event of global proportions".
Ringleader Abdulla Ahmed Ali was found guilty of conspiring to murder thousands in the plot, whose discovery in 2006 triggered wide-ranging new rules on carrying liquids on commercial aircraft.
Tanvir Hussain, 28, and Assad Sarwar, 29, were found guilty of the same charges of plotting to carry out bombings on aircraft flying from London's Heathrow airport to the United States and Canada.
"This was a calculated and sophisticated plot to create a terrorist event of global proportions," the Crown Prosecution Service said after the verdict.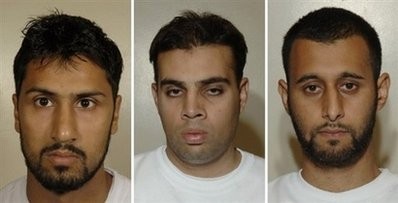 Undated photos of Abdulla Ahmed Ali, (L) Assad Sarwar (C) and Tanvir Hussain (R).
The men "intended to bring down seven aircraft in a short space of time, indiscriminately killing hundreds of innocent people, perhaps more if they had succeeded in activating their devices whilst over cities," it added.
The counter-terrorism operation to prevent the plot was the biggest ever in Britain, costing 35 million pounds (57 million dollars, 40 million euros).
Then British prime minister Tony Blair and US president George W. Bush were briefed during the operation, media reports said Tuesday.
The trio were previously found guilty of conspiracy to murder, but the jury in their first trial could not decide on charges that they had plotted to kill people by bringing down airliners. They will be sentenced on Monday.
Home Secretary Alan Johnson hailed the verdicts, saying: "I am pleased that the jury has recognised that there was a plot to bomb transatlantic flights and that three people have been convicted of that plot.
"This case reaffirms that we face a real and serious threat from terrorism. This was a particularly complex and daring plot which would have led to a terrible attack resulting in major loss of life."
Johnson added: "I cannot thank enough those involved for their professionalism and dedication in thwarting this attack and saving thousands of lives."
But a former assistant police commissioner, who worked on the case, said he suspected jittery US authorities unintentionally hampered their investigation.
Andy Hayman said he suspects US authorities, fearful of US deaths if the plot was carried out, pressured Pakistan to arrest the suspected mastermind of the plot prematurely.
Hayman, of the Metropolitan Police's specialist operations, said that arrest "hampered our evidence-gathering and placed us in Britain under intolerable pressure," -- as police then needed to bring forward their arrests.
Woolwich Crown Court heard the plot was drawn up in Pakistan and passed on to Ali, who returned to Britain to assemble a terror cell, gather material and identify targets.
However, police had him under surveillance and bugged his flat in east London where he met others to build the homemade bombs.
The plan was to smuggle explosives made of hydrogen peroxide onto the planes in soft drink bottles. Refilled batteries would carry the chemical detonator, with the bombs set off using a charge from a light bulb filament.
They would have been assembled and detonated in mid-air by a team of suicide bombers, causing untold damage.
Police believe the design was thought up by a bombmaker with links to the Al-Qaeda network, who has never been identified.
British-born Ali was inspired by suicide bombers who attacked London's transport system on July 7, 2005, killing 52 people, prosecutors said.
He is thought to have finalised the plans during a six-month trip to Pakistan in 2005, and intended to teach non-Muslims "a lesson that they will never forget".
Ali threatened further attacks against the West in a suicide video recorded in his flat, warning the British public to expect "floods of martyr operations" that would leave body parts scattered in the streets.
Hussain also recorded suicide videos. In their defence the men argued the footage was part of an elaborate publicity stunt designed to call attention to an Internet documentary attacking British foreign policy.
The jury found Ibrahim Savant, 28, Arafat Waheed Khan, 27, and Waheed Zaman, 24, not guilty of the plot. Donald Stewart-Whyte, 23, was found not guilty of both conspiracy to murder on aircraft and conspiracy to murder.
After 54 hours of deliberations, the jurors failed to reach a verdict on the role in the plot of Umar Islam, 31, although he was convicted of the second charge of conspiracy to murder.